MANY THEATERS ARE NOW CLOSED. WE WILL CONTINUE TO POST UPDATES.
The Journey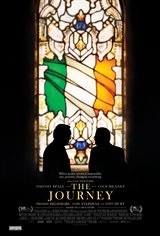 | 6 votes and 1 Reviews
Write a Review
In Theaters: June 16, 2017 (limited)
PG-13 | 1h 34m | Drama
---
A dramatization of the true story of two political enemies, Democratic Unionist Party leader Ian Paisley (Timothy Spall) and Sinn Fein politician Martin McGuinness (Colm Meaney). The two form an unlikely friendship after a short journey together that changes the course of history. The film centers around the events after 2006's St. Andrews Agreement, that gave peace to Northern Ireland after years of fighting between Unionist and Republican factions.
---
Change Location