MANY THEATERS ARE NOW CLOSED. WE WILL CONTINUE TO POST UPDATES.
Trial by Media (Netflix)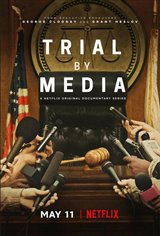 ---
Six televised cases defined by headlines reaching across different areas of the law are shown in this series. The first takes a look at trashy talk shows and how they bring out the worst in people, leading to physical violence on air. In one instance, an appearance on Jenny Jones's talk show led to murder when a man named Jonathan Schmitz, who said on the show that he was heterosexual, was blindsided when he was told he would meet a secret admirer. On air, he discovered his secret admirer was a gay male named Scott Amedure. Several days later, after receiving suggestive notes from Amedure, Schmitz murdered him.
The series takes a look at made-for-Court TV murder trials, including subway vigilante Bernhard Goetz who shot four young criminals in 1984 after they surrounded him and demanded money; the sensational story of Rod Blagojevich's political fall; and the case of Amadou Diallo, an unarmed African immigrant who was shot 41 times by police in New York City.
---
Change Location