The Remaining
Thank you for rating this movie!
Read your review below. Ratings will be added after 24 hours.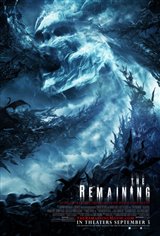 2.60 / 5
Based on 10 votes and 5 reviews
---
Please rate between 1 to 5 stars
Showing 1 to 5 of 5
April 09, 2015
this is most awesome movie I've ever watched in my whole damn beautiful life. I have became the obsessor of this movie and it caught my attention is sam portray by LIZ MORGAn damn shes so pretty so much i love her character and i ship her to Johnny pacar. I hope they have movie together that the main character is them. Whoever producers writer or someone please give them a movie they deserve to have one together in one project.
March 19, 2015
Okay, I'm going to start with the negatives. The acting was uneven (I don't think Sam's face ever changed in that movie). A couple of the male leads you actually grow to heavily dislike (which isn't bad if you are meant to, but...). Lastly, the movie wasn't sure if it wanted to be a thriller, or a "Come to Jesus" movie. I went into this movie thinking "Yeah, let's waste two hours of my life." Maybe because that is what I thought going into it, I wound up really enjoying the movie. No, this was no Oscar contender. But come on, this was leagues better than the "Left Behind" or "Revelation Road" movies. I really felt for the two best friend female leads, and though the Sam character could h
February 14, 2015
This movie sucked. I wish the rapture happened BEFORE I watched this movie! Acting was horrible. For an "end of days movie" this really did not do humanity justice.
February 02, 2015
This was the worst movie I have seen in a long time. I think it was funded by the bible belt of America......
January 28, 2015
pretty great movie. Ending could have been a bit better.. Enjoyed it though.