MANY THEATERS ARE NOW CLOSED. WE WILL CONTINUE TO POST UPDATES.
The Last Witness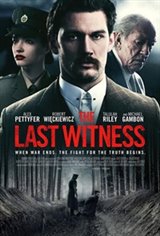 ---
In post-war England, ambitious journalist Stephen Underwood (Alex Pettyfer) comes across a disturbing spate of suicides of Polish soldiers. Sensing a story, his first port of call is Colonel Janusz Pietrowski, a Liaison Officer for the re-settlement of Polish troops under British command.
But the meeting with Pietrowski leaves Stephen troubled, and from here his investigation escalates as he finds himself embroiled in a dangerous, multi-layered conspiracy concerning the execution of 22,000 Polish military and civilians by Stalin's secret police.
---
Change Location