MANY THEATERS ARE NOW CLOSED. WE WILL CONTINUE TO POST UPDATES.
Tel Aviv on Fire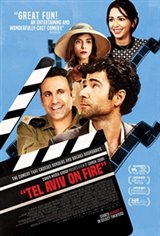 2 votes and 0 Reviews
Rotten Tomatoes® Score


90%

86%
In Theaters: August 2, 2019 (limited)
Comedy
---
Salam, a Palestinian in his thirties, is a trainee on the popular television series Tel Aviv on Fire, which chronicles the assassination attempt on an Israeli army captain by an Arab officer in 1967, a few weeks before the Six-Day war. Living in Jerusalem, Salam must cross the Ramallah border daily to get to work. Stopped by checkpoint commander Assi, Salam claims to be the writer of the soap opera. The officer, who hates the anti-Zionist show filled with dramatic and historical nonsense, sees an opportunity. After confiscating Salam's identity papers, he rewrites several key scenes from the series. Salam is finally allowed to pass, but has to claim Assi's corrections as his own ideas. Luckily, Salam's uncle, the producer of the show, likes the proposed changes so much so that he promotes his nephew to the rank of head screenwriter.
---
Change Location