MANY THEATERS ARE NOW CLOSED. WE WILL CONTINUE TO POST UPDATES.
Sathyam Paranja Viswasikuvo
Sathyam Paranja Viswasikuvo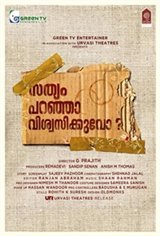 ---
Suni makes his living as a mason, and spends most of his time squandering his hard-earned money away with his friends.
Geetha, Suni`s wife, bears the brunt of his negligent lifestyle and often quarrels with him over it.After witnessing a gruesome accident, Suni and his friends find their lives taking some really unexpected turns; and they must now band together in order to survive.
---
Change Location