MANY THEATERS ARE NOW CLOSED. WE WILL CONTINUE TO POST UPDATES.
Mistresses (Lyubovnitsy)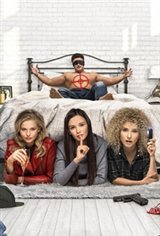 ---
One day three girls - a nurse, a student and an actress - accidentally met in a bar. They found out that all of them just broke up with their boyfriends, who happened to be married. At first they decided to take revenge.
But when they reach their goal, the girls have an idea: they would use their wit and skills to help other women and punish their husbands who cheated on them. Because there are thousands of girls just like them.
---
Change Location