MANY THEATERS ARE NOW CLOSED. WE WILL CONTINUE TO POST UPDATES.
I Got the Hook-Up 2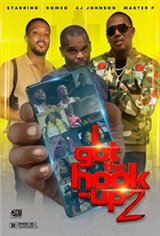 | 6 votes and 1 Reviews
Write a Review
In Theaters: July 12, 2019 (limited)
Comedy
---
Best friends and old-school street hustlers Black and Blue went legit twenty years ago when they opened their family restaurant. But with the health inspector threatening to shut them down, they could lose it all. Now it's up to young thug scam artists Fatboy and Spyda to step up and save the day.
And a stolen shipment of the hottest smart phones might just be the ticket, so long as the cops and a couple of bloodthirsty gangs don't get them first. Come back and visit the old neighborhood in this hilarious all-new comedy classic even wilder than the original.
---
Change Location