MANY THEATERS ARE NOW CLOSED. WE WILL CONTINUE TO POST UPDATES.
Emma Peeters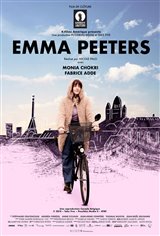 0 votes and 0 Reviews
1h 27m | Comedy, Drama
---
A week before her 35th birthday, and 15 years after her arrival in Paris, aspiring Belgian actress Emma Peeters feels like a failure, despite winning the title of salesperson of the month at the electronics store where she works.
Believing she'll never succeed as an actress, Emma says goodbye to her parents in a way that leads them to them believe she's going on a long trip, then plans her suicide with the help of funeral director Alex Bodard, who begins to fall for her.
---
Change Location