MANY THEATERS ARE NOW CLOSED. WE WILL CONTINUE TO POST UPDATES.
Cloud 9 (TV)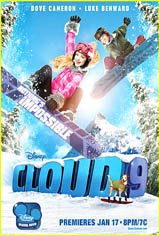 0 votes and 0 Reviews
1h 30m | Family
---
Kayla Morgan (Dove Cameron) has got it made. She's the top female snowboarder on her team and her dad owns the ski resort where they train. Her boyfriend Nick is the top male snowboarder and the son of the coach. But when she's unceremoniously dropped from her team, she finds out that maybe she's not as skilled or talented as she was led to believe.
To make up for hijinks that Nick got her into, she has to work with Will (Luke Benward), a former snowboarding champion who had a career-ending wipe-out. Now he and his mother run a boarding facility for dogs. At first she dislikes Will, who was the first to be honest with her about her snowboarding ability. But when she sees him helping his friends with snowboarding tips, she realizes he may be able to help her get better as a snowboarder and back into the competition. The only thing standing in her way is Will, who doesn't want to return to return to the sport in any capacity.
---
Change Location