MANY THEATERS ARE NOW CLOSED. WE WILL CONTINUE TO POST UPDATES.
Beautiful Boy (2011)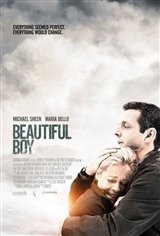 | 128 votes and 24 Reviews
Write a Review
In Theaters: June 3, 2011 (limited)
R | 1h 40m | Drama
---
After years of neglect, Bill and Kate's marriage is on the verge of collapse. Now that their only son has left for college, they find themselves living in their empty home alone together—sleeping in separate bedrooms and living divided lives. There just doesn't seem to be any reason to stay together anymore.
But on one horrible morning, they receive the news that a mass shooting has occurred at their son's university. Dozens of students are killed in the rampage. It is a tragedy of national proportions. Fearing their son may be one of the victims, Bill and Kate try desperately to reach him, but can't. When they finally get word, it's even more horrible than they ever imagined.
---
Change Location