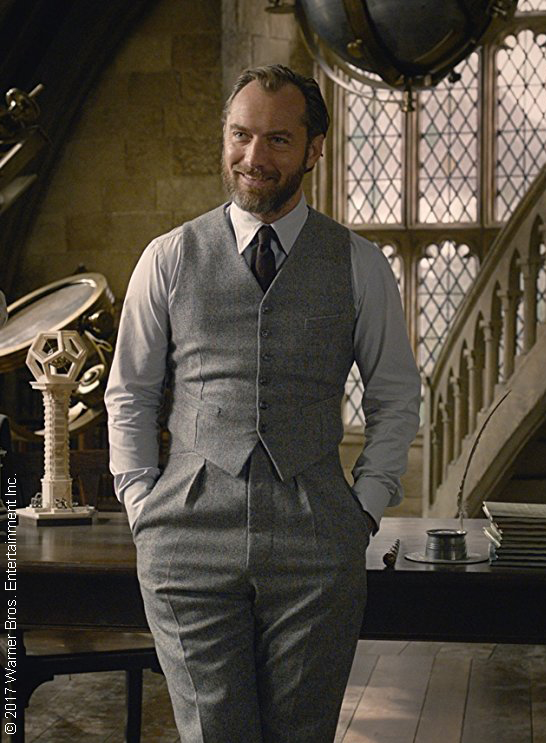 Fantastic Beasts and Where to Find Them director David Yates said in an interview with Entertainment Weekly this week that Albus Dumbledore "had a very intense relationship with Grindelwald when they were young men. They fell in love with each other's ideas, and ideology and each other."
Jude Law, who plays the young Dumbledore in the next installment in the series, titled Fantastic Beasts: The Crimes of Grindelwald (also directed by Yates), backed that up, telling the magazine in a recent interview that fans won't be disappointed with the sequel, adding, "Jo Rowling revealed some years back that Dumbledore was gay. That was a question I actually asked Jo and she said, 'Yes, he's gay.'"
However, Yates denies that Dumbledore's sexuality will be explored in this sequel, while Law revealed that his character and Gellert Grindelwald, played by Johnny Depp, don't have a single scene together.
He admitted, "I don't actually have any scenes with Johnny. As I said before, this is only Part 2 of a longer story. I've always admired him from afar, but we don't know each other, and I've not yet met him on this. In many ways that suits the relationship as it's been many years since they've seen each other. So there's complexity in that that's fun to mine. Again, the past will reveal itself."
Fantastic Beasts: The Crimes of Grindelwald hits theaters November 16, 2018 and stars Eddie Redmayne as Newt Scamander. ~Alexandra Heilbron