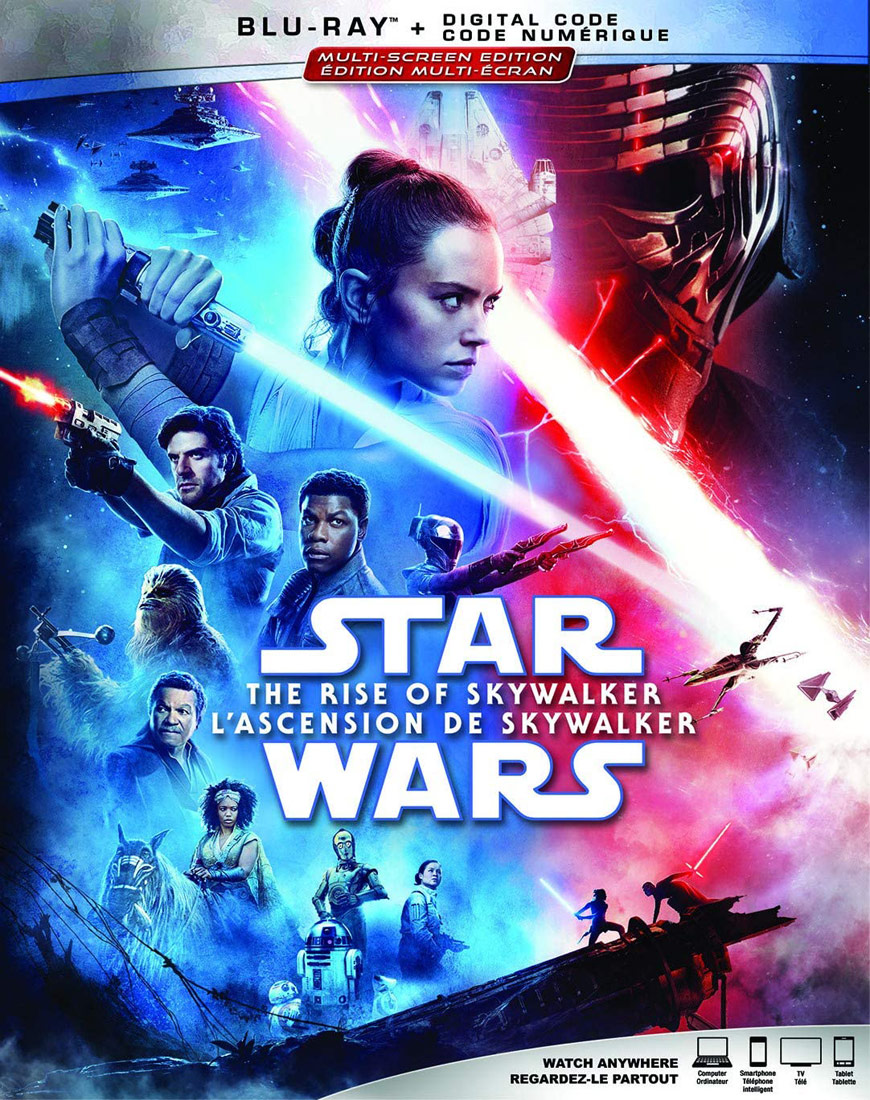 The movie many have been waiting for is finally available on DVD, Blu-ray and Digital -- Star Wars: The Rise of Skywalker. The final film of the trilogy, it received rave reviews and earned over $1 billion worldwide at the box office. Check out all the films releasing on DVD and/or Blu-ray today and watch my interviews with some of the stars of the movies -- links below. ~Alexandra Heilbron
Star Wars: The Rise of Skywalker - With help from Leia (Carrie Fisher), Rey (Daisy Ridley) trains to defeat the First Order. An anonymous spy within the First Order also provides hope for the rebels, but setbacks may turn their mission into an impossible one. Click here to read our review. Click here to watch our interview with Joonas Suomato, who plays Chewbacca.
[tribute_embed media = 21125 ]
The Current War: Director's Cut - Thomas Edison (Benedict Cumberbatch) has an amazing new invention – the lightbulb. George Westinghouse (Michael Shannon) comes up with a way to provide electric lighting to more homes using alternating current (AC), instead of direct current (DC), which Edison created. However, his hopes to partner with Edison are halted when Edison denounces AC, saying it is dangerous and will kill people -- and proves it. Click here to watch our interview with Benedict Cumberbatch. Click here to watch our interview with Michael Shannon.
[tribute_embed media = 20667 ]
The Assent - After a series of disturbing supernatural events in his home, Joel, a single father, fails to convince his young son, Mason, that nothing is wrong. When a babysitter spends a night looking after Mason, she's convinced his life is in danger and calls Father Lambert, a priest who performs exorcisms. As chilling occurrences unfold, the priest informs a resistant Joel that unless he can successfully perform an exorcism, a demon will soon take full control of his boy.
[tribute_embed media = 21410 ]
Standing Up, Falling Down - Stand-up comedian Scott (Ben Schwartz) begrudgingly returns to Long Island after striking out on the Los Angeles comedy scene. He moves back in with his family, even though he's humiliated by this turn of events. Wracked with doubt and facing the prospect of trying to find a real job, Ben meets Marty (Billy Crystal), a local dermatologist and charming barfly who loves karaoke. However, Scott soon learns that Marty's larger-than-life personality and alcoholism mask past disappointments of his own. Their unlikely friendship leads Marty and Scott to find the strength to each start confronting their long-simmering regrets.
[tribute_embed media = 21511 ]