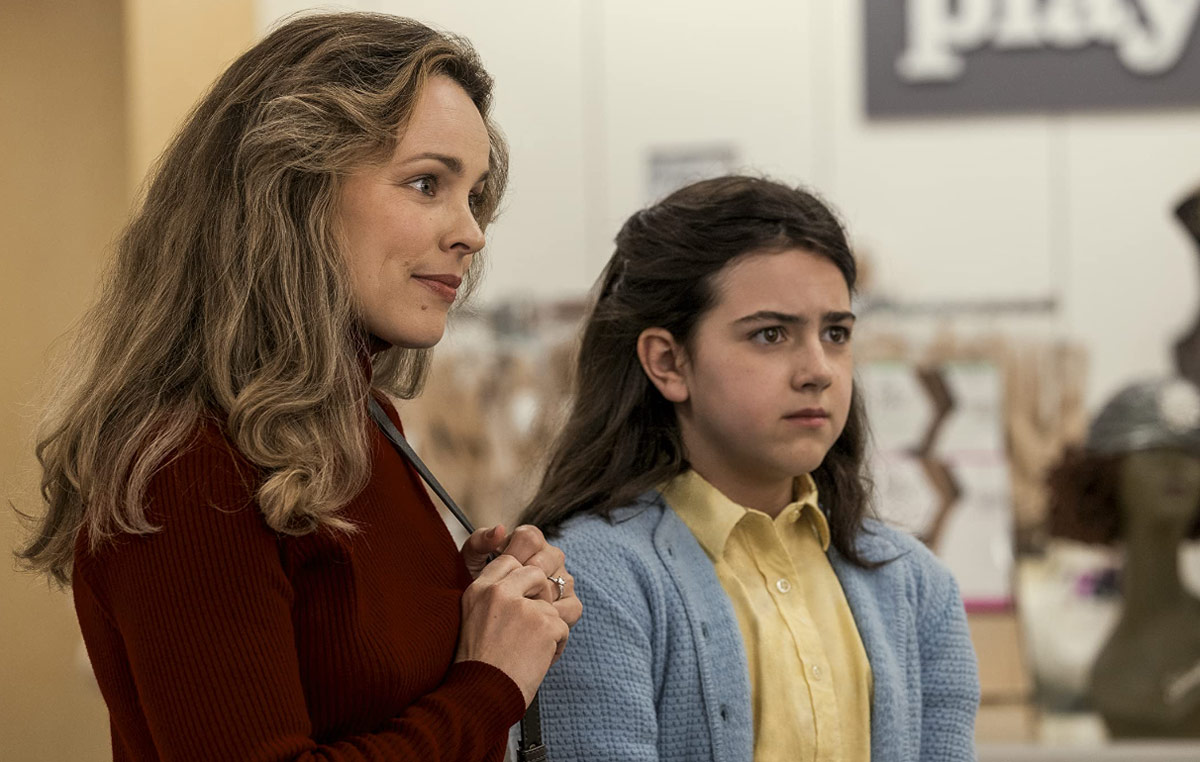 There are many great new movies to choose from this weekend, including Are You There God? It's Me, Margaret, based on the beloved Judy Blume book; the 40th anniversary release of Star Wars: Episode VI - Return of the Jedi and much, much more. Check them all out below and watch the trailers to decide what you want to see at the movies this weekend. ~Alexandra Heilbron
Are You There God? It's Me, Margaret - Raised by a Christian mother (Rachel McAdams) and a Jewish father (Benny Safdie), 11-year-old Margaret (Abby Ryder Fortson) has to deal with navigating adolescence and finding new friends when they move from the city to the suburbs. Click here for showtimes.
Big George Foreman - Fueled by an impoverished childhood, George Foreman channels his anger into becoming an Olympic Gold medalist and World Heavyweight Champion, followed by a near-death experience that takes him from the boxing ring to the pulpit. But when he sees his community struggling spiritually and financially, Foreman returns to the ring and makes history by reclaiming his title, becoming the oldest and most improbable World Heavyweight Boxing Champion ever. Click here for showtimes.
Sisu - During WWII, a solitary prospector (Jorma Tommila) crosses paths with Nazis in northern Finland. When the Nazis steal his gold, they quickly discover that they have just tangled with no ordinary miner. No matter what the Nazis throw at him, the one-man death squad will go to outrageous lengths to get his gold back – even if it means killing every last Nazi in his path. Click here for showtimes.
Polite Society - Martial artist-in-training Ria Khan (Priya Kansara) believes she must save her older sister Lena (Ritu Arya) from her impending marriage. After enlisting the help of her friends, Ria attempts to pull off the most ambitious of all wedding heists in the name of independence and sisterhood. Click here for showtimes.
National Theatre Live: Othello - An extraordinary new production of Shakespeare's tragedy. She's a bright, headstrong daughter of a senator; elevated by her status but stifled by its expectations. He's a refugee of slavery; having risen to the top of a white world, he finds love across racial lines has a cost. Wed in secret, Desdemona and Othello crave a new life together. But as unseen forces conspire against them, they find their future is not theirs to decide. Othello is filmed live on the Lyttleton stage of the National Theatre. Playing April 27 and 30 only in select theaters. Click here for showtimes.
Ponniyin Selvan - Part 2 - In 10th-century Thanjavur, Chola dynasty emperor Chozhar and his sons Aditha Karikalan (Vikram) and Arulmozhi Varman - Ponniyin Selvan (Jayam Ravi) wish to expand their kingdom. What follows is a series of gruesome wars and seedy conspiracies -- underlined by power play. A mysterious woman's (Aishwarya Rai Bachchan) connection to the story will be revealed. Playing in select cities. Click here for showtimes.
The End of Sex - Emma (Emily Hampshire) and Josh (Jonas Chernick) are excited to have some alone time while their twin daughters are away at camp. Unfortunately for them, their romantic week becomes a series of sexual adventures to revitalize their relationship. Playing in select cities. Click here for showtimes.
Nuclear Now - With unprecedented access to the nuclear industry in France, Russia, and the United States, this documentary explores the possibility for the global community to overcome the challenges of climate change and energy poverty to reach a brighter future through the power of nuclear energy. Playing in select cities. Click here for showtimes.
Star Wars: Episode VI - Return of the Jedi: 40th anniversary re-release - After Luke Skywalker (Mark Hamill), Princess Leia (Carrie Fisher), Chewbacca (Peter Mayhew) and the two droids, C-3PO (Anthony Daniels) and R2-D2 (Kenny Baker), rescue Han Solo (Harrison Ford) from the clutches of Jabba the Hutt back on Tatooine, the group joins up with the Rebel forces who are preparing a major assault on the Empire. Playing in select cities. Click here for showtimes.