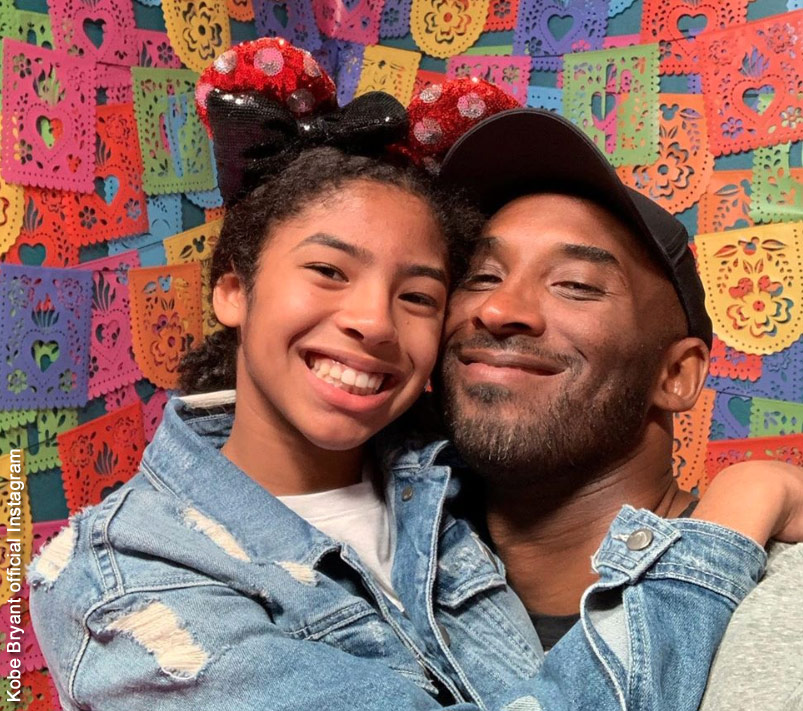 On the afternoon of Sunday, January 26, 2020, NBA icon and Los Angeles Lakers legend Kobe Bryant was among the nine confirmed dead of a helicopter crash in Calabasas, California.
Los Angeles County Sheriff Alex Villanueva confirmed the news in a press conference later that day after initial news of the crash was reported by TMZ. Kobe Bryant's 13-year-old daughter Gianna (pictured at left with her father in an Instagram post) was also one of the victims of the crash.
The cause of the crash is unknown at this time, but according to reports, they were flying in heavy fog. Recovery of the bodies and their identification will likely take several days according to Villanueva and and Chief Medical Examiner Dr. Jonathan Lucas, due to the terrain and condition of the crash site. Los Angeles County Fire Chief Daryl Osby said later that afternoon that the Federal Aviation Administration was on scene and will work with the National Transportation Safety Board during the investigation.
The helicopter carrying Bryant and his daughter departed from John Wayne Airport around 9:06 a.m. PT with Mamba Sports Academy in Thousand Oaks as its destination, for Gianna's basketball game. The first 911 call to report the crash came in at 9:47 a.m. PT.
Among the dead were Orange Coast College baseball coaching legend John Altobelli, his wife Keri, and their daughter Alyssa, as confirmed by their family. Costa Mesa Mayor Katrina Foley confirmed via Twitter that Christina Mauser, a girls' basketball coach at a nearby private school, was also among the victims. Her husband Matt Mauser, confirmed the news in a Facebook post. Sources also confirmed that two of the other victims included Sarah Chester and her middle-school daughter Payton, with Sarah's brother Riley Chester posting a tribute to the two on his Instagram account.
After being selected 13th overall by the Charlotte Hornets in the 1996 draft, Kobe Bryant was traded to the Los Angeles Lakers where he would go on to play the entirety of his 20-year career. He helped the franchise win five NBA championships, including three straight from 2000 to 2002 and back-to-back titles in 2009 and 2010. Among his personal accolades, he won the 2008 NBA MVP award, two NBA Finals MVP awards and was named to 18 All-Star teams, the last of which he played in Toronto in 2016. Bryant also holds the second-highest single-game scoring total in league history with 81, which he scored against the Toronto Raptors on January 22, 2006.
Following his retirement in 2016, Bryant opened up his own production company, looking to enter the entertainment business. In 2018 Bryant won an Oscar for his contributions to the animated short film Dear Basketball, which was an animated telling of a poem by Bryant. On film, he played himself in a cameo in the 2015 comedy Daddy's Home. Bryant, affectionately known as Mamba, was among those up for induction into the NBA Hall of Fame in 2020.
The tragedy comes just one day after LeBron James surpassed Kobe Bryant for third all-time on the NBA's scoring list, with Bryant tweeting his congratulations and respect to James.




Continuing to move the game forward @KingJames. Much respect my brother 💪🏾 #33644


— Kobe Bryant (@kobebryant) January 26, 2020
An outpouring of support and sadness from all corners followed the news of Bryant's passing. From former teammates, coaches, rivals, competitors, generations of new players and fans influenced by him, Bryant's impact was immediately felt throughout the league and world. NBA teams held moments of silence followed by intentional 24-second shot clock violations in honor of the NBA icon who wore the number 24 later in his career. An impromptu shrine was erected at his former alma mater Lower Merion High School in Philadelphia, and fans gathered outside the Stapes Center in Los Angeles California mourning the loss of the retired superstar.




A makeshift shrine has been set up outside the Bryant gymnasium at Kobe Bryant's alma mater, Lower Merion High School. pic.twitter.com/RllivtUNu8


— Malika Andrews (@malika_andrews) January 27, 2020
Kobe Bryant was 41. He is survived by his wife of 19 years, Vanessa, and three daughters: Natalia, 17, Bianka, 3, and Capri, seven months.