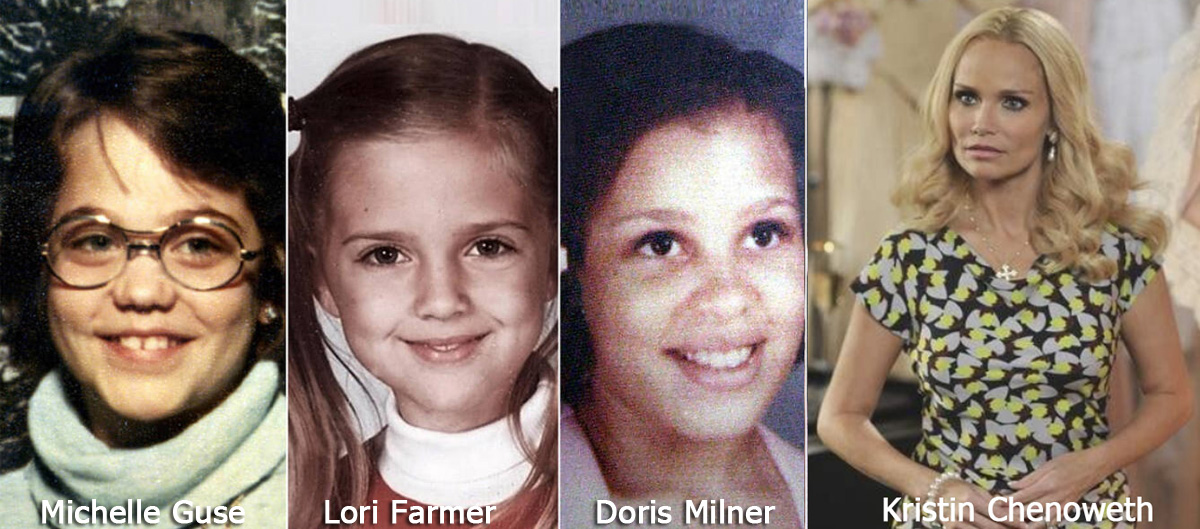 Kristin Chenoweth has revealed she was a member of the Oklahoma Girl Scout troop that was on a camping trip in Oklahoma in 1977 when three of the girls were murdered. Kristin, who was nine when the murders occurred, was scheduled to go on the trip -- but at the last minute, she had to cancel. She recalls, "I had gotten sick, and Mom said, 'You can't go.'"
"It haunts me every day," Chenoweth says in the trailer for the Hulu mini-series Keeper of the Ashes: The Oklahoma Girl Scout Murders. She adds, "As a Girl Scout, I loved going to camp. The friendships that I made, they were like my sisters. I never once thought anything bad could happen. It has stuck with me my whole life: I could have been one of them."
Chenoweth recently returned to her home state to host the series, which takes another look at the murders of Lori Lee Farmer, 8, Michele Heather Guse, 9, and Doris Denise Milner, 10, all from Broken Arrow, Oklahoma, where Chenoweth was born and raised.
Along with over 100 other campers, the three little girls arrived at Camp Scott on June 12, 1977, and were assigned to Tent #8, which was the farthest from their counselor's tent. Each tent held four girls, but the other girl assigned to Tent #8 was late due to a scheduling conflict. That night there was a thunderstorm, so all the campers went to their tents early. The three girls were found approximately 150 yards away at 6 a.m., on the trail leading to the showers. Two of the girls -- Farmer and Guse -- had been beaten to death inside the tent. Milner had been stabbed to death a few yards away. All three were sexually assaulted.
DNA testing was not yet available in 1977, but there was plenty of evidence, including duct tape, a cord and a flashlight with a fingerprint on the lens. A footprint was found inside the tent, and another one, different in size, was found outside. Afterwards, it came to light that a note had been left two months earlier in a cabin on camp property. It read, "We are on a mission to kill three girls in tent one," signed "The Killer." The camp director believed it to be a prank and thought no more of it.
Police dogs located more evidence in a cave two miles from camp, including a flashlight battery, glasses that were believed to have been from the camp, and photos of women that were linked to an escaped convict named Gene Leroy Hart.
Hart, who had escaped prison in 1973, had been serving time for burglary, as well as the kidnapping and rape of two pregnant women. He was charged with the girls' murders, but acquitted by a jury following a trial. However, he was returned to prison to serve out his time for the other crimes, and died June 4, 1979 of a heart attack.
Keeper of the Ashes: The Oklahoma Girl Scout Murders debuts May 24 on Hulu.