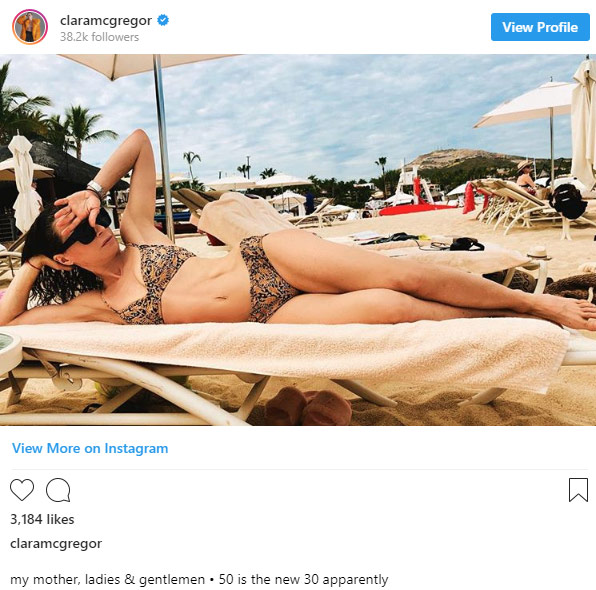 Ewan McGregor's oldest daughter, Clara, posted a photo online on Tuesday of her mother, Eve Mavrakis, lounging in a bikini. She captioned it: "my mother, ladies & gentlemen • 50 is the new 30 apparently."
When a fan commented jokingly, "good to know you have the smoke show genes...keep her away from your boyfriends," Clara responded with: "Nah I keep her away from a–hole men who leave my goddess of a mother. :)"
Clara was 21 when photos of her father, 47, kissing his much-younger Fargo co-star Mary Elizabeth Winstead, 34, were published in a British newspaper in October 2017.
The Christopher Robin star filed for divorce from the mother of his daughters after 22 years of marriage just a few months later. Eve and Ewan also have three younger daughters: Jamiyan and Esther Rose, both 17, and Anouk, who turns eight this month.
In October 2018, Ewan claimed in court documents he was "voluntarily" paying "too much" in child support.
Last July, when Clara saw a comment from a fan on Instagram calling Mary Elizabeth Winstead the "most beautiful and talented woman on earth," she shot back: "Oh man, y'all are delusional. The girl is a piece of trash." She later expressed regret -- of a sort -- about the comment, telling The Times: "'I said how I felt and I didn't want to apologize for it. It wasn't the right way to go about things, but it's a hard thing to wrap your head around when you feel you had this idea of what the family unit is and then to have that shift. It's very weird."
Clara's younger sister, Esther, wrote a song she posted to Instagram on Jan. 18, 2018 with the lyrics: "Waking up slowly, I'm taking my time, I read some dumb s–t that I found online. Seeing those pictures, they're making me cry. Happy birthday to me — am I right? I don't know how to forgive. I don't know if I can. Ruining me." The photos of Ewan and Mary Elizabeth kissing were apparently published by the British paper The Sun on Esther's 15th birthday.  ~Alexandra Heilbron







View this post on Instagram