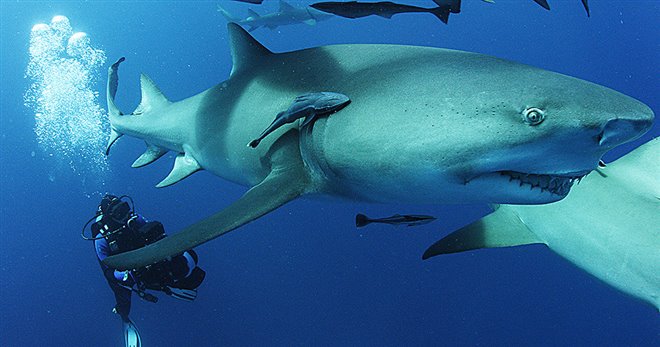 On April 22 we celebrate Earth Day and what better time to watch some currently streaming movies about the Earth and everything that lives on it and in the oceans. These are the films that inspire us to care about environmental issues like climate change, pollution, wildlife conservation, oceans etc. Check out our top recommendations of movies to stream for Earth Day.
Life in Color with David Attenborough - In a stunning three-part series, David Attenborough travels the world from the rainforests of Costa Rica to the snowy Scottish Highlands to reveal the extraordinary and unique ways in which animals use color. Streams on Netflix.
Our Planet - The eight-part Netflix documentary series shows the planet's most precious species and fragile habitats, revealing sights on Earth in ways they've never been seen using the latest in 4k camera technology. It's filmed in 50 countries across all seven continents, with over 600 crew members. The series focuses on the diversity of habitats around the world, taking audiences from the remote Arctic wilderness to the jungles of South America. Streams on Netflix.
Sharkwater Extinction - A thrilling, action-packed journey that follows filmmaker Rob Stewart's hard-nosed exposé of the massive illegal shark fin industry and the political corruption behind it, a conspiracy that is leading to the extinction of sharks. From West Africa, Spain, Panama, Costa Rica, France, and even in our own backyard, Stewart's third film dives into the underworld of the pirate fishing trade to expose a multi-billion dollar industry. Shark finning is still rampant, with shark fin soup still being consumed on an enormous scale, and endangered sharks are routinely added to our everyday products, many intended for human consumption. Stewart's mission is to save the sharks and oceans before it's too late. But exposing illegal activities isn't easy and protecting sharks earned Rob some powerful enemies. Streams on Gem.
Down to Earth with Zac Efron - Zac Efron teams up with wellness expert Darin Olien to travel the globe and learn about sustainable living. They visit countries and cities such as France, Puerto Rico, Iceland, London and many more to see how locals are living and taking action to create a more sustainable Earth. Trying local food and customs along the way, Efron and Olien meet with top eco-innovators to see how we can do our part to save the world. Streams on Netflix.
Seaspiracy - This documentary examines the global fishing industry, challenging notions of sustainable fishing and showing how human actions cause widespread environmental destruction. Filmmaker Ali Tabrizi has always loved the ocean, but he can't believe how big a negative impact people have had on the seas. He tries to find out what the solution is to saving the oceans from overfishing, plastic, and being used like a garbage dump. Streams on Netflix.
Revolution - A follow-up to his award-winning documentary Sharkwater, this continues his remarkable journey of discovery to find out that what he thought was a shark problem is actually a people problem. As Stewart's battle to save sharks escalates, he uncovers grave dangers threatening not just sharks, but humanity. In an effort to uncover the truth and find the secret to saving our own species, Stewart embarks on a life-threatening adventure through 15 countries, over four years in the making. Click here to watch it free.
Dolphin Reef - This doc dives under the sea to frolic with some of the planet's most engaging animals: dolphins. Created with Disneynature's signature storytelling style, the film introduces Echo, a young Pacific bottlenose dolphin who can't quite decide if it's time to grow up and take on new responsibilities. Dolphin society is tricky, and the coral reef that Echo and his family call home depends on all of its inhabitants to keep it healthy. But Echo has a tough time resisting the many adventures the ocean has to offer. Streams on Disney+
Elephant -  This doc follows African elephant Shani and her spirited son Jomo as their herd makes an epic journey hundreds of miles across the vast Kalahari Desert. Led by their great matriarch, Gaia, the family faces brutal heat, dwindling resources and persistent predators, as they follow in their ancestors' footsteps on a quest to reach a lush, green paradise. Streams on Disney+
Meet the Chimps - This docuseries takes viewers into the secret life of one of the largest and most unique wildlife sanctuaries in the world – Chimp Haven—a 200-acre refuge tucked deep in the forested heart of Louisiana, which is home to more than 300 chimpanzees. Narrated by Emmy Award-winning actress Jane Lynch, the six-part series tracks the ups and downs of an extraordinary group of chimps that are given a second chance at life by a staff whose dedication, compassion and commitment knows no bounds. Streams on Disney+
Chasing Coral - Coral reefs are the nursery for all life in the oceans, a remarkable ecosystem that sustains us. With its breathtaking photography, nail-biting suspense, and startling emotion, Chasing Coral is a dramatic revelation that won't have audiences sitting idle for long. Streams on Netflix.
My Octopus Teacher - In this documentary, free diver and filmmaker Craig Foster sees an octopus in a kelp forest in the ocean surrounding Cape Town, South Africa and slowly forms a bond with her, after she reaches out to him when he extends a hand towards her. Intrigued, he begins to dive every day to observe her, and the curious young octopus in turn observes him. She eventually allows him into her life, letting him see how she lives, where she sleeps and eats. Streams on Netflix.
Kiss the Ground - Narrated by Woody Harrelson, this film takes a close look at the Earth's most powerful unsung hero, our soil. As people become sick from a wide variety of diseases, this film looks at why and the relationship between health and food. It exposes the chemicals that are put into the water and the chemicals used in the farming methods of the last 50 years. With cancer and diabetes rates affecting a large number of the population, it's time to take a look at what is in the soil where vegetables and fruits are grown. Streams on Netflix.