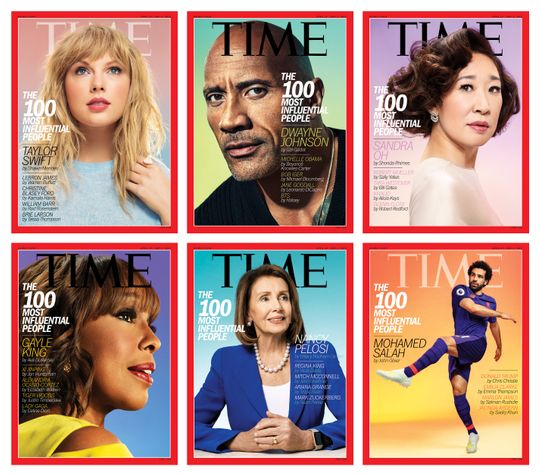 Time magazine released their 2019 list on Wednesday of the "100 most influential people in the world" in their new issue, which has six covers to choose from.
Some of the names included on the list were: Taylor Swift, Emilia Clarke of Game of Thrones, recent Oscar-winner Lady Gaga, Brie Larson, Dwayne Johnson, Canadian actress Sandra Oh, Regina King, Ariana Grande and BTS. There were also several athletes, such as LeBron James, Alex Morgan and Tiger Woods, as well as names from the political arena, such as Michelle Obama, Donald Trump and Nancy Pelosi.
In honor of Taylor Swift's success, her friend Shawn Mendes wrote, "I've been a Taylor Swift fan for as long as I can remember. But it wasn't until I met and got to know her that I understood how wonderful a person she truly is."
Grey's Anatomy creator Shonda Rhimes wrote about Sandra Oh, calling her "a virtuoso. She treats dialogue like notes of music -- every word must be played, every syllable correctly toned. She's always been an extraordinary actor. Her body of work makes that clear."
Other names on the list include recent Oscar-winners Mahershala Ali and Rami Malek. ~Fatma Ozen