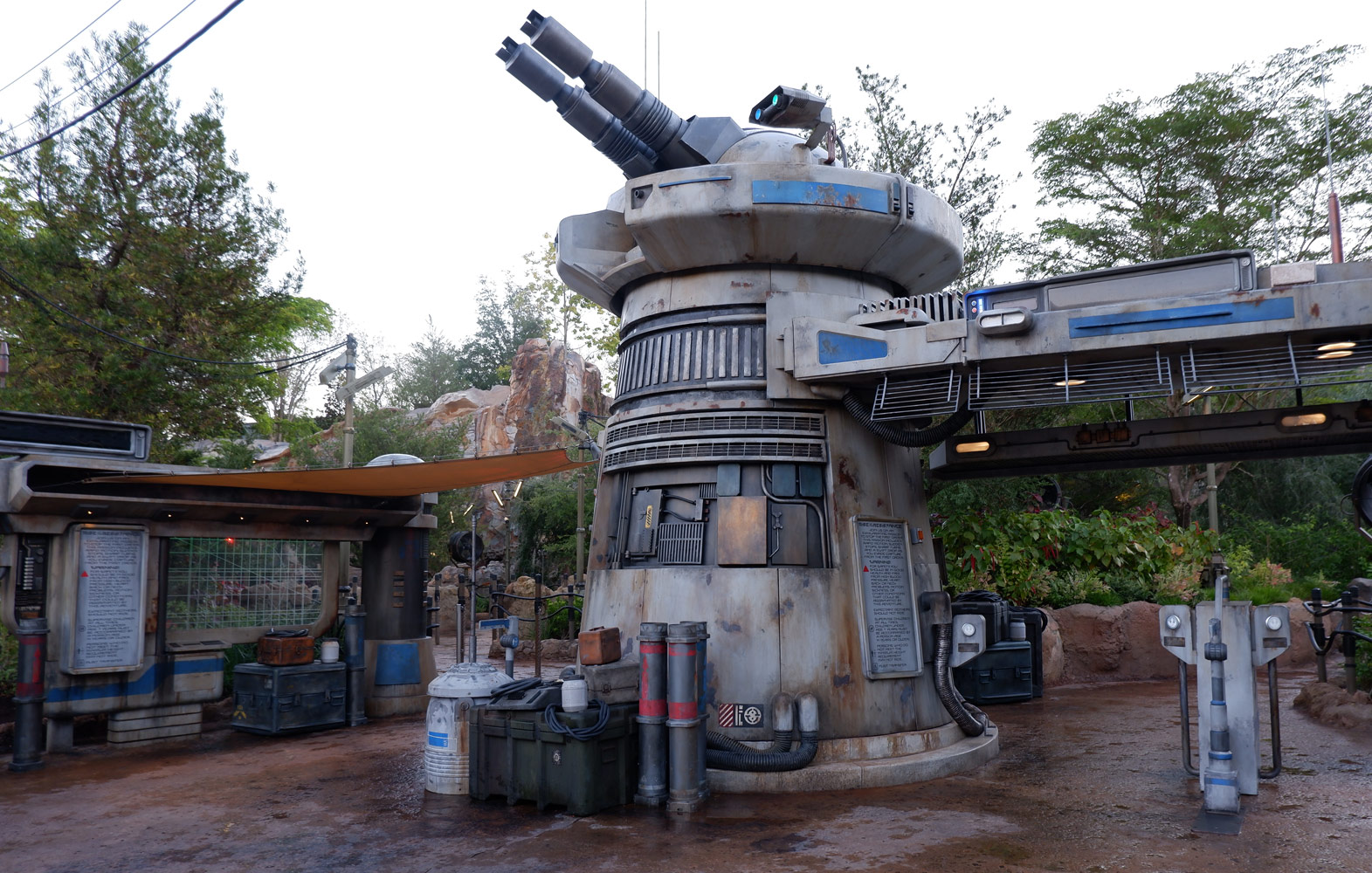 The new Star Wars ride at Walt Disney World -- Rise of the Resistance -- opened yesterday to a sold-out crowd of very enthusiastic fans, all of whom had booked their tickets in advance, and some of whom had waited in their cars since the night before to be the first to enjoy this brand new, fully immersive ride that brings you right into the world of Star Wars and places you in the middle of a battle between the First Order and the Resistance.
We were invited to experience the ride on the day before it opened to the public to test it out for ourselves. As we entered the ride, we were met by a frantic BB-8, who tried to convey an important message to us: the new recruits. A hologram of Rey soon appeared, and she told us a covert Resistance team led by Finn had infiltrated a First Order Star Destroyer headed to our system. She warned us that our outpost on Batuu was no longer safe and urged us to get on a transport waiting to take us to General Organa's secret base.
We then boarded a full-size transport shuttle, but it was soon taken over by the First Order. We were led on the Star Destroyer and past an awe-inspiring sight -- a huge army of Stormtroopers -- and placed in a holding cell. Shut in, we waited in anticipation to see what would happen next. We were suddenly broken out by the Resistance and placed in smaller ships that swirled us from place to place as Kylo Ren and General Hux battled it out with the Resistance fighters.
With several components to the ride and a full storyline that places us right in the Star Wars universe as Resistance recruits, I'd have to say this is my favorite Disney ride of all time. It's obvious that an incredible amount of time and imagination went into creating this new attraction. I had the opportunity to speak with Margaret Kerrison, Managing Story Editor at Walt Disney Imagineering, who said the ride was "Something that we thought was very inspirational for a lot of Star Wars fans -- but not only Star Wars fans -- Disney fans as well. We really wanted to raise the bar in terms of what kind of an attraction can make you feel like you're completely immersed in a 360-degree environment where it truly blurs the line between fantasy and reality."
Star Wars: The Rise of the Resistance opened yesterday -- December 5, 2019 at Star Wars: Galaxy's Edge in Hollywood Studios at Walt Disney World. The ride will also open at Disneyland Park in California on January 17, 2020. Be sure to check out our Instagram page @tributemovies for more photos from our trip to Star Wars: Galaxy's Edge in Hollywood Studios at Walt Disney World! ~Photos and article by Alexandra Heilbron