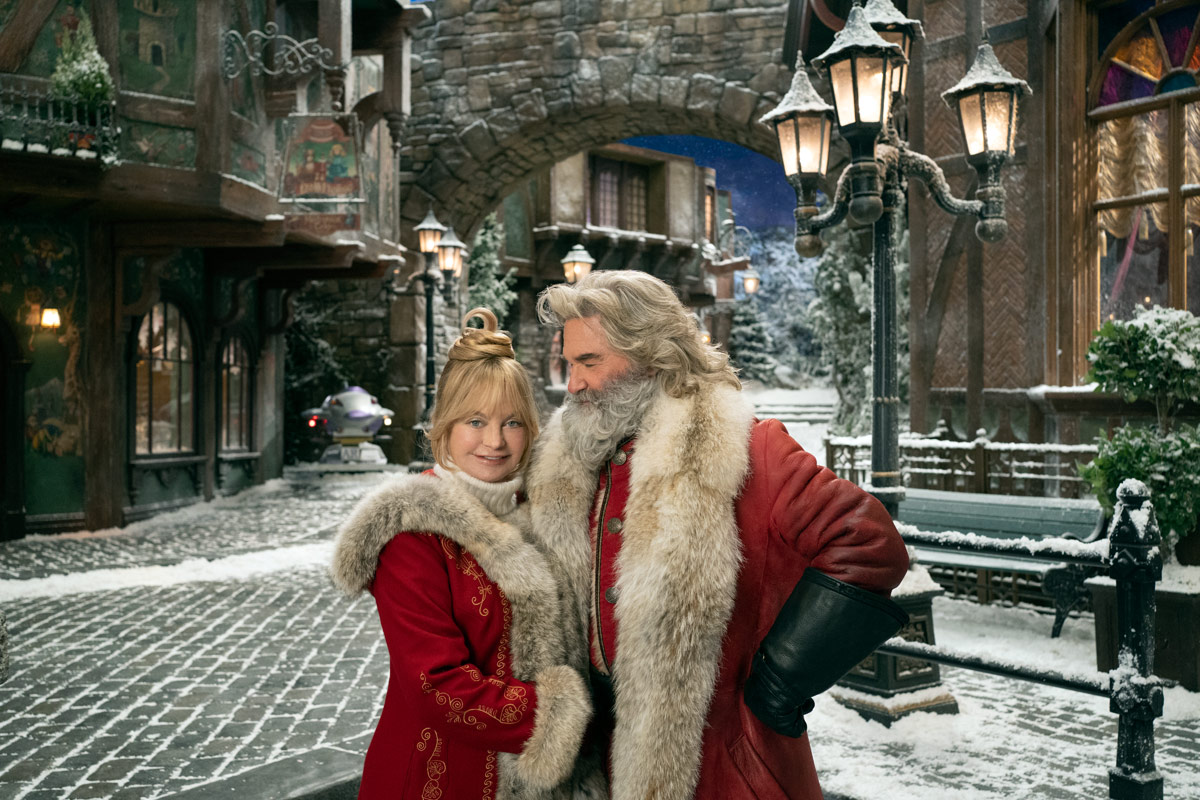 Check out the new DVDs, Blu-rays and streaming shows (Netflix, Amazon Prime Video, BritBox, Acorn TV, Sundance Now, Apple TV and Disney+) coming out this week. ~Alexandra Heilbron
The Christmas Chronicles 2 - It's been two years since Kate and her brother Teddy helped Santa Claus (Kurt Russell) get his sleigh and reindeer back. Now a teenager, Kate goes through a wormhole back to the North Pole, where she's reunited with Santa Claus and meets his wife, Mrs. Claus (Goldie Hawn). However, a troublemaker named Belsnickel wants to steal the Christmas Star. Santa and Kate set off on a mission to stop Belsnickel and save Christmas. Begins streaming on Netflix Nov. 25.
The Irishman - In 1950, Frank Sheeran (Robert De Niro) is hired as a hit man by Philadelphia mobster Russell Bufalino (Joe Pesci). Years later, Detroit-based union leader Jimmy Hoffa (Al Pacino) takes Frank on as his bodyguard, at Russ's recommendation. While working for Hoffa, Frank continues to work for Russ's mob, which leads to Frank's loyalties and principles eventually being put to the test. Available Nov. 24 on Blu-ray/DVD. Also available on Netflix.
Dinner with Friends - When Abby's (Kat Dennings) first lesbian relationship comes to an end, she looks forward to spending Thanksgiving with her best friend Molly (Malin Akerman) in Los Angeles. Although the plan is to have just the two of them spend the holiday together, friends begin inviting themselves over and they soon have a full house, including Molly's mother (Jane Seymour), who invites Molly's former boyfriend Gunnar. Available Nov. 24 on Blu-ray/DVD/VOD/Digital.
The Secrets We Keep - In post-WWII America, a woman (Noomi Rapace) who is rebuilding her life in the suburbs with her husband (Chris Messina) kidnaps her neighbor (Joel Kinnaman) to seek vengeance for the heinous war crimes she believes he committed against her. Available Nov. 24 on DVD/VOD/Digital.
Fatman - Santa Claus (Mel Gibson) is feeling discouraged. Children don't believe in him anymore and he's starting to lose faith in humanity. When a wealthy and spoiled 12-year-old boy gets a lump of coal instead of a present, he hires an assassin (Walton Goggins) to kill the jolly elf. When the hitman tracks down Santa, he finds him armed and ready. Available Nov. 24 on Blu-ray/DVD/VOD/Digital.
On Streaming, DVD/Blu-ray/VOD and Digital this week:
November 23
Dear Mandela (Sundance Now)
Paris, je t'aime (Sundance Now)
Shawn Mendes: In Wonder (Netflix Documentary)
November 24
Better Call Saul: Season 5 (Blu-ray/DVD)
Blinded (DVD)
Buddy Games (VOD/Digital/DVD)
Dragons: Rescue Riders: Huttsgalor Holiday (Netflix Family)
El Cuaderno de Tomy / Notes for My Son (Netflix Film)
The Gulf (DVD)
Hillbilly Elegy (Netflix Film)
Train to Busan Presents: Peninsula (Blu-ray/DVD/VOD/Digital)
Wonderoos (Netflix Family)
November 25
The Christmas Chronicles 2 (Netflix Film)
Great Pretender: Season 2 (Netflix Anime)
Halloween (2018) (Netflix)
November 26
B & B (Acorn TV)
Happiest Season (VOD/Digital)
Larry the Cable Guy: Remain Seated (Netflix)
Life in a Year (Amazon Prime Video)
Mosul (Netflix Film)
Riviera: Season 3, Episode 4 (Sundance Now)
Spider-Man: Into the Spider-Verse (Netflix)
The Yorkshire Vet Countryside Specials (Acorn TV)
November 27
A Bit of Fry and Laurie: Seasons 2-4 (BritBox)
A Go! Go! Cory Carson Christmas (Netflix Family)
Alvin and the Chipmunks: The Road Chip (Disney+)
Black Beauty (Disney+ Original Film)
The Call (Netflix Film)
Dance Dreams: Hot Chocolate Nutcracker (Netflix Documentary)
Don't Listen (Netflix Film)
La Belva / The Beast (Netflix Film)
Locas Por El Cambio (Amazon Prime Video)
The Mandalorian: Episode 205 (Disney+)
Marvel's Spider-man: Maximum Venom: Season 3 (Disney+)
Once Upon a Time in Wonderland (Disney+)
Sugar Rush Christmas: Season 2 (Netflix Original)
Überweihnachten / Over Christmas (Netflix Original)
Virgin River: Season 2 (Netflix Original)
The Wonderful World of Mickey Mouse (Disney+)
Zappa (Apple TV+, VOD)
November 28
Do Not Adjust Your Set: Seasons 1-2 (BritBox)
Sequin in a Blue Room (Amazon Prime Video)
The Uncanny Counter (Netflix Original)
November 29
The Bill (BritBox)
Wonderoos: Holiday Holiday! (Netflix Family)