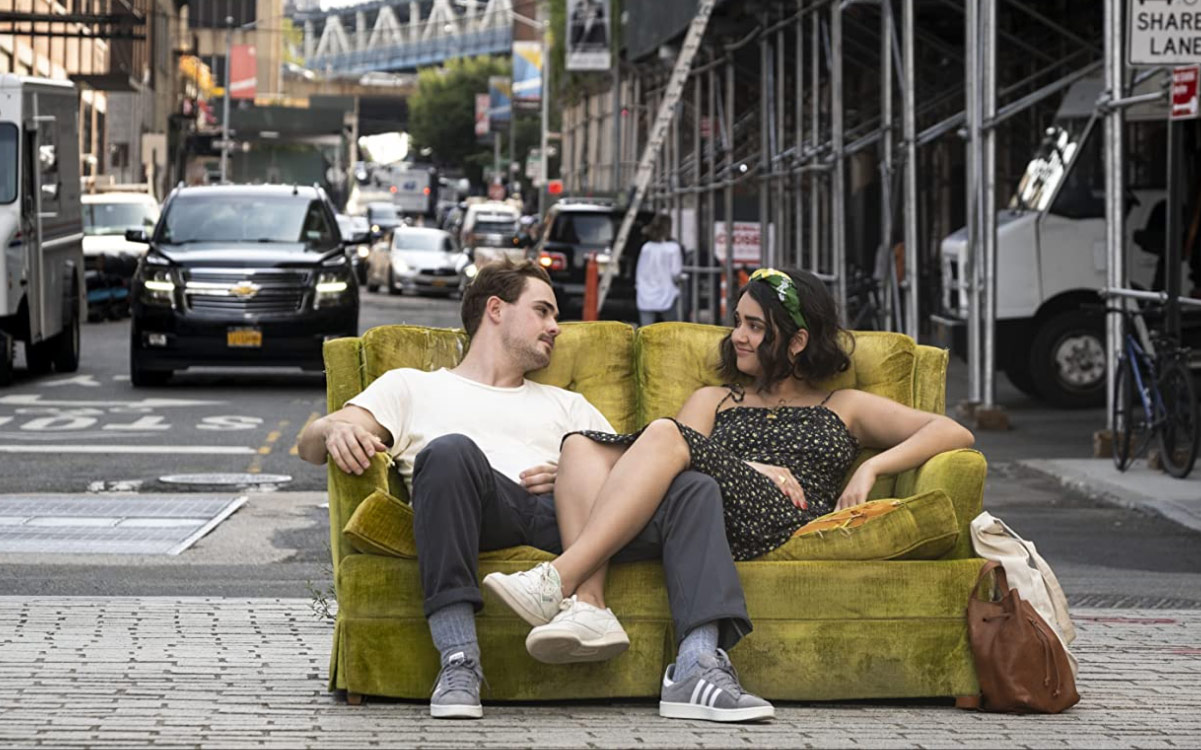 Check out the new DVDs, Blu-rays and streaming shows (Netflix, Amazon Prime Video, BritBox, Acorn TV, Sundance Now, Apple TV and Disney+) coming out this week. ~Alexandra Heilbron
The Broken Hearts Gallery - Art gallery assistant Lucy (Geraldine Viswanathan) meets Nick (Dacre Montgomery), who shows her the hotel he's renovating. She hoards items from relationships, but doesn't know what to do with them, so he hangs a tie she was hoarding on the wall of the hotel lobby, which inspires Lucy to make the lobby a pop-up space for people to leave items from relationships that have ended, called "The Broken Heart Gallery." Available Dec. 1 on Blu-ray/DVD/VOD/Digital.
Dacre Montgomery talks about how much he enjoyed filming in Toronto and how, as an Australian with Canadian relatives, he feels at home in Canada. He reveals which souvenir he kept from the set of The Broken Hearts Gallery and how he felt about having to do a scene in which he dances. Finally, he discusses what it's been like for him in Australia during the pandemic and talks about an upcoming project that he's very excited about.
Geraldine Viswanathan discusses what it was like filming The Broken Hearts Gallery with fellow Australian Dacre Montgomery in Toronto. She reveals what souvenir she kept from the set and in what ways she differs from Lucy, the character she played in the film.
Made in Italy - Liam Neeson and his son with his late wife Natasha Richardson, Micheál Richardson (who changed his last name two years ago to honor his late mother), play a father, Robert, and son Jack who reunite 20 years after the death of Jack's mother to restore the family vacation home. While they bring the home back to its original glory, Jack and Robert find themselves fixing their own fractured relationship. Available Dec. 1 on Blu-ray/DVD/VOD/Digital.
Godmothered - Eleanor (Jillian Bell), a young, inexperienced fairy godmother-in-training, decides to show the world that people still need fairy godmothers. Finding a mislaid letter from a 10-year-old girl in distress, Eleanor tracks her down and discovers that the girl, Mackenzie, is now a 40-year-old single mom (Isla Fisher). Having lost her husband, Mackenzie has all but given up on the idea of "Happily Ever After," but Eleanor is bound and determined to give Mackenzie a happiness makeover, whether she likes it or not. Begins streaming on Disney+ Dec. 4.
On Streaming, DVD/Blu-ray/VOD and Digital this week:
November 30
A Love So Beautiful (Netflix Original)
Doctor Strange (Netflix)
Finding Agnes (Netflix Film)
Fingersmith (Acorn TV)
Law & Order: UK: Series 2 (Acorn TV)
Spookley and the Christmas Kittens (Netflix)
December 1
Agent Toby Barks (Amazon Prime Video)
Angela's Christmas Wish (Netflix Film)
The Holiday Movies That Made Us (Netflix Original)
Natalie Palamides: Nate – A One Man Show (Netflix Comedy Special)
2012 (Netflix)
A Christmas Catch (Netflix)
Annie (Netflix)
Austin Powers: International Man of Mystery (Netflix)
Austin Powers: The Spy Who Shagged Me (Netflix)
The Cazalets (2001) (BritBox)
Christmas with a Prince (Netflix)
Christmas Wonderland (Netflix)
Crouching Tiger Hidden Dragon: 20th Anniversary (4K Ultra HD/Blu-ray Combo Steelbook)
Dandelion Dead (BritBox)
Don't Let Go (Netflix)
Dune Drifter (DVD/VOD/Digital)
The Dressmaker (Netflix)
G.I. Joe: Retaliation (Netflix)
G.I. Joe: The Rise of Cobra (Netflix)
Godzilla (Netflix)
Gridiron Gang (Netflix)
Heading Home (1991) (BritBox)
Juliet, Naked (Netflix)
Lady Chatterley's Lover (2015) (BritBox)
Theatre Night: Lady Windermere's Fan (1985) (BritBox)
Leon: The Professional National Steelbook (4K Ultra HD/Blu-ray)
Life in Squares (2015) (BritBox)
Love in a Cold Climate (2001) (BritBox)
The Night Watch (2011) (BritBox)
North & South (2004) (BritBox)
Odd Squad: Seasons 1-2 (Netflix)
The Other Boleyn Girl (2003) (BritBox)
Room at the Top (2012) (BritBox)
Super Wings: Season 3 (Netflix)
The Rental (DVD/Blu-ray/Digital)
The Rising Hawk: Battle for the Carpathians (DVD/Blu-ray)
Rocks (VOD/Digital)
They Shall Not Grow Old (Netflix)
Top Gun (4K Ultra HD/Blu-ray Combo Steelbook)
Transformers Rescue Bots Academy: Season 2 (Netflix)
Triggered (VOD/Digital)
Under the Greenwood Tree (2005) (BritBox)
The Virgin Suicides (Sundance Now)
The Vow (Netflix)
Walking Tall (Netflix)
The Way We Live Now (2001) (BritBox)
December 2
A Royal Scandal (1996) (BritBox)
Alien Worlds (Netflix Documentary)
Ari Eldjárn: Pardon My Icelandic (Netflix Comedy Special)
Battleship (Netflix)
Big Fat Liar (Netflix)
Carlito's Way (Netflix)
Children of Men (Netflix)
Fierce (Netflix)
Half Baked (Netflix)
Hazel Brugger: Tropical (Netflix Comedy Special)
Middlemarch (1994) (BritBox)
My Family and Other Animals (2005) (BritBox)
Workin' Moms: Season 4 (Netflix)
December 3
Anna of the Five Towns (1985) (BritBox)
Break (Netflix Film)
Chico Bon Bon and the Very Berry Holiday (Netflix Family)
The Commons: Episode 1 (Sundance Now Exclusive)
Just Another Christmas (Tudo Bem No Natal Que Vem) (Netflix Film)
Riviera: Season 3, Episode 5 (Sundance Now Original)
Sons Of The Soil: Jaipur Pink Panthers: Season 1 (Amazon Original)
December 4
Beyond the Clouds (Apple TV+)
Bhaag Beanie Bhaag (Netflix Original)
Big Mouth: Season 4 (Netflix Original)
Bombay Rose (Netflix Film)
Brain Games: Seasons 5-6 (Disney+)
Captain Underpants Mega Blissmas (Netflix Family)
Christmas Crossfire (Wir Können Nicht Anders) (Netflix Film)
Diana: In her Own Words (Disney+)
Diary of a Wimpy Kid: The Long Haul (Disney+)
Epic (Disney+)
Eragon (Disney+)
Extras – Beyond the Clouds: Where It All Began (Disney+)
Godmothered (Disney+ Original)
Kings of Joburg: Season 1 (Netflix)
Leyla Everlasting (Netflix Film)
Luxor (VOD/Digital)
The Mandalorian: Chapter 14 (Disney+)
Mank (Netflix Film)
Mansfield Park (1983) (BritBox)
Mariah Carey's Magical Christmas Special (Apple TV+ Original)
Northanger Abbey (1987) (BritBox)
The Nutcracker and the Four Realms (Disney+)
Selena: The Series (Netflix Original)
Stillwater (Apple TV+)
Survival Skills (VOD/Digital)
The Way Home (VOD/Digital)
We Bought A Zoo (Disney+)
December 5
Detention (Netflix Original)
Dr. Seuss' The Grinch (Netflix)
Emma (1972) (BritBox)
Mighty Express: A Mighty Christmas (Netflix Family)
Persuasion (2007) (BritBox)
December 6
Everybody Knows (Netflix)
Pride and Prejudice (1980) (BritBox)