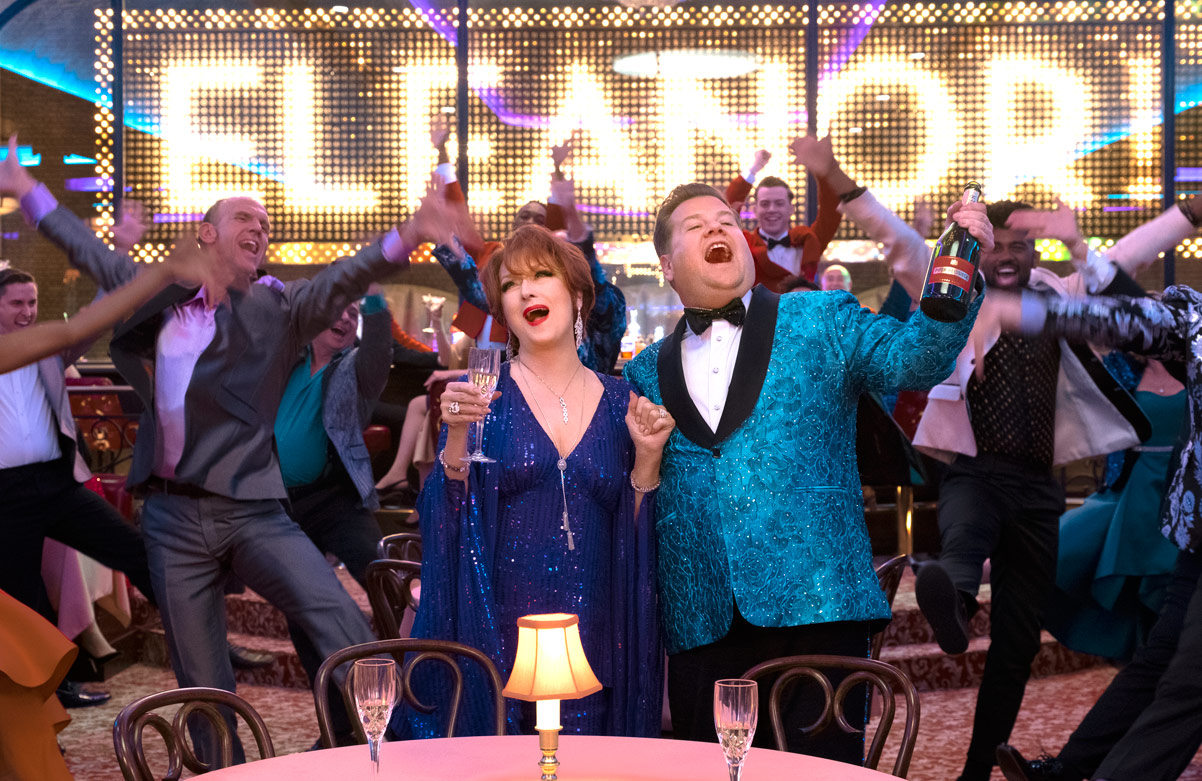 Check out the new DVDs, Blu-rays and streaming shows (Netflix, Amazon Prime Video, BritBox, Acorn TV, Sundance Now, Apple TV and Disney+) coming out this week. ~Alexandra Heilbron
The Prom - Broadway stars Dee Dee Allen (Meryl Streep) and Barry Glickman (James Corden) come to the rescue when Edgewater, Indiana, high school student Emma Nolan is banned from attending the prom with her girlfriend. They find their own lives upended as they rally to give Emma a night where she can truly celebrate who she is. Debuts on Netflix Friday Dec. 11, 2020.
Possessor Uncut - Tasya Vos (Andrea Riseborough) is Girder's (Jennifer Jason Leigh) star assassin, who takes over the mind of individuals using a brain-implant technology to carry out high-profile assassinations. After every mission, Vos says she's fine and passes the mental test when she returns to her body. But her life is sad and depleted, with an ex-husband (Rossif Sutherland) and a young son who lives with him. Vos is then assigned a lucrative new job. This one involves taking over the brain of Colin Tate, the future son-in-law of a corporate mogul. But Colin doesn't make it easy and she becomes trapped inside a mind that threatens to obliterate her. Available Dec. 8 on DVD/Blu-ray/VOD/Digital.
Possessor Uncut stars Andrea Riseborough and Christopher Abbott talk about sharing the same role and the conversations between them. Andrea shares the out-of-body experience she had as they were mirroring each other's movements and Chris details how he relates to the theme of identity. They also reveal that if they were to be implanted into director Brandon Cronenberg's mind, what valuable information they'd steal.
Yes, God, Yes - Alice (Natalia Dyer) has always been a good Catholic girl. However, when an online chat turns racy, she is overwhelmed with guilt. To help suppress her urges, she goes to a religious retreat but finds it really difficult, especially when a cute boy starts flirting with her. Alice is extremely confused when she discovers hypocrisy within those who are attending the retreat, but finds relief from an unlikely ally who opens her eyes to what it really means to be a good person. Available Dec. 8 on DVD/VOD/Digital.
She Dies Tomorrow - After waking up convinced that she is going to die tomorrow, Amy strongly believes there is no future for her. She tells her friend Jane that she's going to die. But fear is contagious. Now Jane starts to worry, believing that Amy put this idea of imminent dying in her head. Jane starts to believe that she too is going to die tomorrow. As her delusions of certain death become contagious to all those around her, Amy and her friends' lives spiral out of control. Available Dec. 8 on DVD/Blu-ray/VOD/Digital.
December 7
Ava (Netflix)
A Suitable Boy (Acorn TV)
Hurdle (Sundance Now)
Nothing Trivial: Series 1 (Acorn TV)
Victorian Farm: Series 1 (Acorn TV)
Who We Are Now (Sundance Now)
December 8
Collateral (4K Ultra HD/Blu-ray Combo)
Emicida: AmarElo – É Tudo Para Ontem (Netflix)
The Godfather, Coda: The Death of Michael Corleone (DVD/Blu-ray)
Guitar Man (VOD/Digital)
Koko-Di Koko-Da (VOD)
The Lady Vanishes (2013) (BritBox)
Lennon's Last Weekend (BritBox)
Lovestruck in the City (Netflix)
Mr. Iglesias: Part 3 (Netflix)
Nadia, Butterfly (VOD/Digital)
The Secrets She Keeps (DVD)
Sense and Sensibility (1981) (BritBox)
Sense and Sensibility (2008) (BritBox)
Smiley Face Killers (DVD/Blu-ray/VOD/Digital)
Spirit Riding Free: Ride Along Adventure (Netflix)
Super Monsters: Santa's Super Monster Helpers (Netflix)
December 9
Ashley Garcia: Genius in Love: Christmas (Netflix)
The Big Show Show: Christmas (Netflix)
Bull: Season 1-3 (Amazon Prime Video)
Come Away (VOD/Digital)
Happiest Season (Amazon Prime Video)
Madame Bovary (1975) (BritBox)
Madame Bovary (2000) (BritBox)
Rose Island (L'Incredibile storia dell'Isola Delle Rose) (Netflix)
The Surgeon's Cut (Netflix)
December 10
Alice in Borderland (Netflix)
The Commons: Episode 2 (Sundance Now Exclusive)
Daniel Deronda (2002) (BritBox)
Durgavati (Amazon Prime Video)
Fanny by Gaslight (1981) (BritBox)
Gold Digger (Sundance Now)
Riviera: Season 3, Episode 6 (Sundance Now Original)
December 11
A Trash Truck Christmas (Netflix)
Canvas (Netflix)
Catherine Cookson's The Glass Virgin (BritBox)
Catherine Cookson's The Secret (BritBox)
Catherine Cookson's The Wingless Bird (BritBox)
Catherine Cookson's Tilly Trotter (BritBox)
Extras – Beyond the Clouds: Meet the Sobiechs (Disney+)
Giving Voice (Netflix)
High School Musical: The Musical: The Holiday Special (Disney+)
The Mandalorian: Chapter 15 (Disney+)
The Mess You Leave Behind (El desorden que dejas) (Netflix)
The Prom (Netflix)
Ralph Breaks the Internet (Disney+)
Safety (Disney+)
The Wilds (Amazon Prime Video)
Wolfwalkers (Apple TV+ movie)
The Wonderful World of Mickey Mouse (Disney+)
December 12
Catherine Cookson's A Dinner of Herbs (BritBox)
Catherine Cookson's Colour Blind (BritBox)
Catherine Cookson's The Moth (BritBox)
I'm Your Woman (Amazon Prime Video)
December 13
Catherine Cookson's The Cinder Path (BritBox)
Catherine Cookson's The Dwelling Place (BritBox)
Catherine Cookson's The Rag Nymph (BritBox)