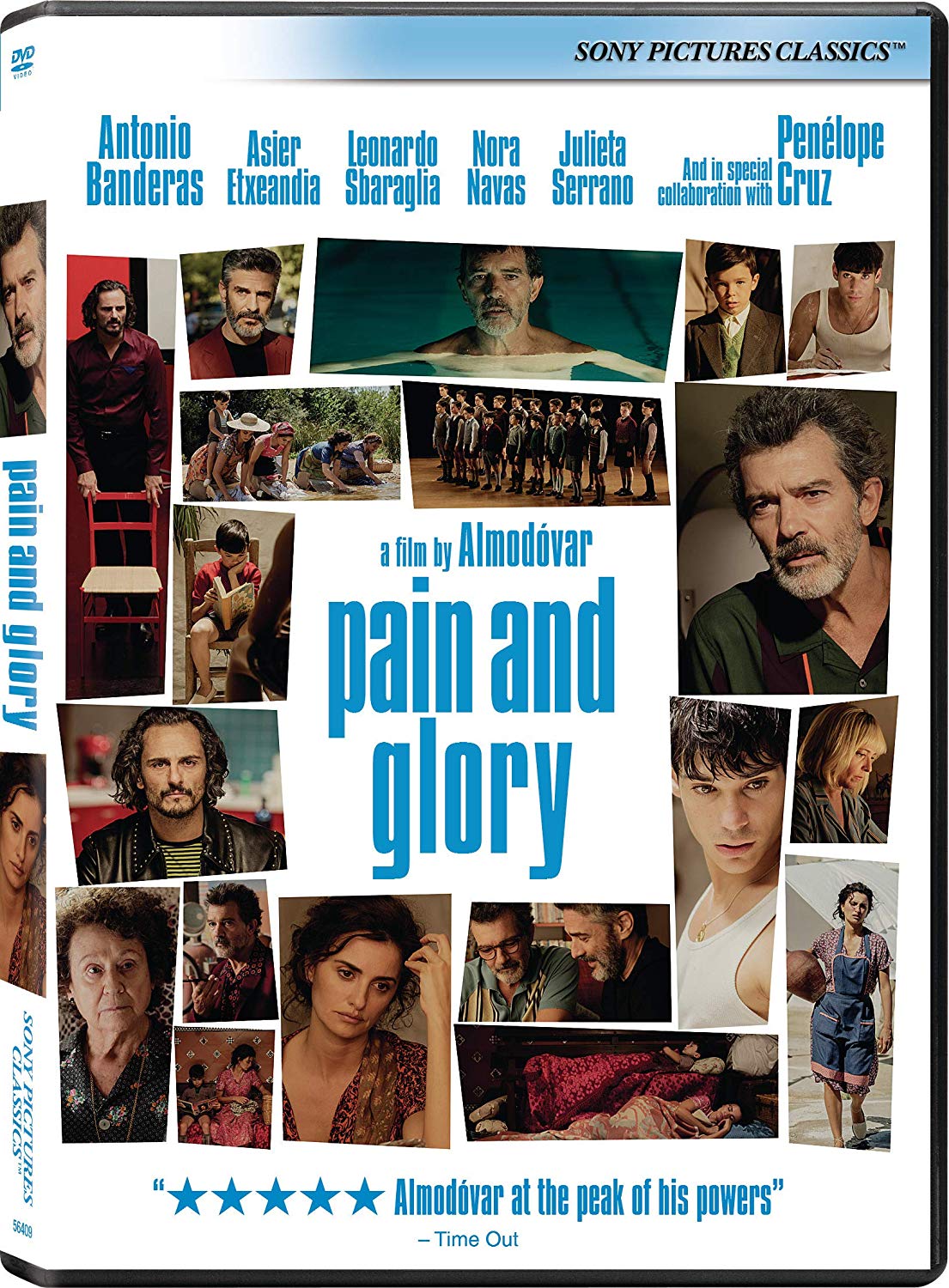 Two-time Academy Award-nominee Pain and Glory is available on DVD and Blu-ray today! In addition six other films are releasing, including a long-awaited sequel, an animated comedy, three horrors, and an action-adventure film. Read below to get all the details! ~Emily Chavez
Pain and Glory – This two-time Oscar nominee in the Lead Actor and Foreign Language Film categories is about a famous movie director, Salvador Mallo (Antonio Banderas), who decides to retire. Suffering from chronic physical pain, anxiety and depression, he is forced to look back at his life and work while still grieving the death of his mother four years earlier. Click here to buy the Blu-ray at Amazon.
Zombieland: Double Tap – Zombie slayers Tallahassee (Woody Harrelson), Columbus (Jesse Eisenberg), Wichita (Emma Stone) and Little Rock (Abigail Breslin) are back after 10 years, ready to kick butt. They must face evolved zombies, human survivors and most of all, they have to face the growing pains of their own snarky, makeshift family. Click here to buy the Blu-ray at Amazon.
The Addams Family – In this animated film based on the macabre and dark cartoons by Charles Addams, loving parents Morticia (Charlize Theron) and Gomez Addams (Oscar Isaac) raise their daughter, Wednesday (Chloë Grace Moretz) and their son, Pugsley (Finn Wolfhard), in an unorthodox way, complete with bombs, a creepy butler named Lurch, and eccentric Uncle Fester (Nick Kroll), who lives with them. Click here to buy the Blu-ray at Amazon.
Countdown – When an app that tells people how many years they have left to live becomes popular, a young nurse named Quinn (Elizabeth Lail) downloads it for fun. After it tells her she has only two days left before her life ends, she decides it's fake, but then learns people are actually dying on the day the app predicted. Quinn tries to get rid of the app, but it proves to be impossible. Click here to buy the DVD at Amazon.
Black and Blue – A rookie cop (Naomie Harris) happens across corrupt officers who are murdering a drug dealer. With the incident captured on her body cam, the bad cops chase her through the night in an attempt to silence her and destroy the incriminating footage. Click here to buy the Blu-ray at Amazon.
Mon Mon Mon Monsters – A group of teenagers doing school-mandated community service discover two flesh-eating creatures hiding in an old building. One of the creatures is able to escape, but they capture the other one to try to learn what it is. It soon becomes clear that the first creature's escape has dire consequences, as she hunts them down and stops at nothing to free her sister. Click here to watch or buy at Amazon.
I See You – When a 12-year-old boy goes missing, lead investigator Greg Harper struggles to balance the pressure of the investigation and troubles with his wife, Jackie (Helen Hunt). But after a malicious presence manifests itself in their home and puts their son in mortal danger, the cold, hard truth about evil in the Harper household is finally uncovered. Click here to watch or buy at Amazon.
As an Amazon Associate we may earn from qualifying purchases.