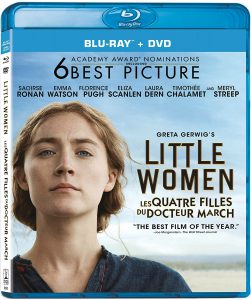 Each week, there are more releases for you to enjoy while you stay safe at home. Check out new releases such as Little Women and Dolittle, in addition to the musical adaptation Cats and the horror thriller Camp Cold Brook. ~Alexandra Heilbron
Little Women – During the American Civil War, the March sisters -- Meg (Emma Watson), Jo (Saoirse Ronan), Amy (Florence Pugh) and Beth (Eliza Scanlen) live with their mother Marmee (Laura Dern), while their father (Bob Odenkirk) is away at war.
The girls are thrilled to get a new next-door neighbor, Laurie (Timothée Chalamet), who immediately becomes a fan of the March sisters. Based on the beloved classic novel by Louisa May Alcott.
Dolittle – Famed eccentric doctor and veterinarian Dr. Dolittle (Robert Downey Jr.) is pulled out of reclusion inside his manor in order to search for a cure to save young Queen Victoria (Jessie Buckley) after she falls gravely ill. He sets out on an epic voyage to a mythical island with a self-appointed apprentice and his menagerie of exotic animals by his side, including a headstrong parrot (voice of Emma Thompson), who serves as Dolittle's most trusted advisor and confidante. Dolittle will look to regain his old wit and the courage to move forward after the death of his wife.
Cats – A big screen adaptation of the Broadway musical by Andrew Lloyd Webber based on the poems from Old Possum's Book of Practical Cats by T.S. Elliot. A tribe of felines known as The Jellicles have to decide each year which one of them will ascend to the Heaviside Layer.
Camp Cold Brook - Reality TV producer and host Jack Wilson's (Chad Michael Murray) show, Haunt Squad, is about to be cancelled. In a last ditch effort to spark ratings, he and his producers Angela and Emma choose the legend of Camp Cold Brook to save their show. The camp was host to a horrific incident, in which 30 young campers were drowned in a nearby creek 20 years ago. Their arrival begins like any other episode, but the terror here was real -- this is not going to be a regular episode of chasing errant noises and measuring for EVP.