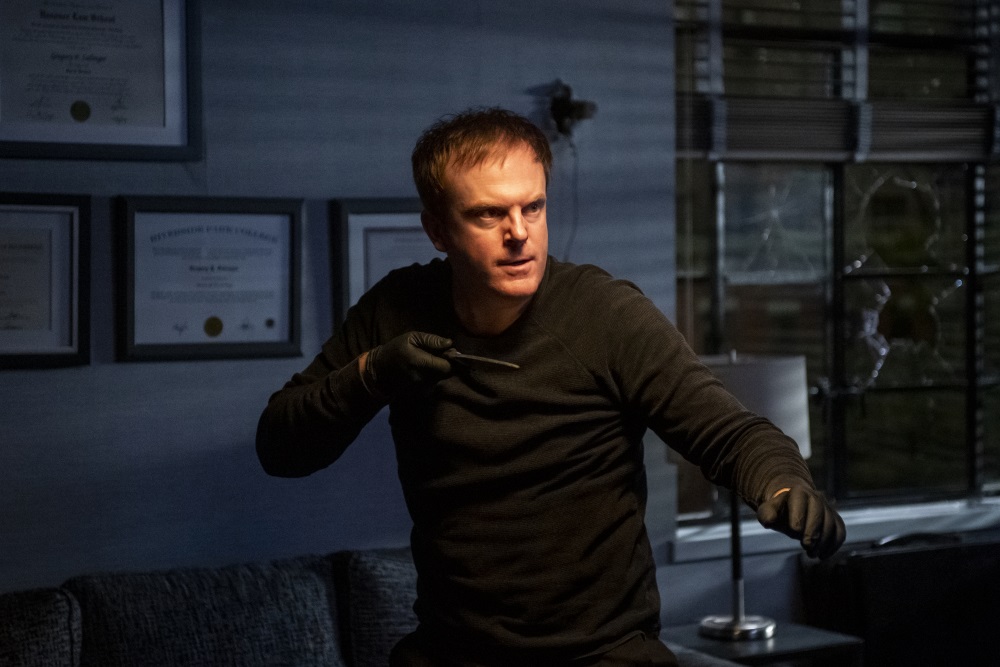 Jeremy Bobb and Aneesh Sheth join Marvel's Jessica Jones in season 3

In the world of Marvel's Jessica Jones, there are always a few new characters added to either cause chaos, or to bring stability into the lives of our lead characters. Two new actors on season 3 are Aneesh Sheth, who plays Jessica's new assistant Gillian, and Jeremy Bobb, who plays Gregory Sallinger, our very own villain extraordinaire.

We were invited to visit the Jessica Jones set in New York City to take a look behind the scenes and talk to the cast, including Krysten Ritter, Rachael Taylor, Carrie-Anne Moss and Eka Darville about their roles, the world of Jessica Jones and more. Click here to read those interviews.

We chatted with Aneesh and Jeremy about what we can expect from their characters in season 3.  ~Marriska Fernandes
Gillian

Gillian, played by Aneesh, is taking on the role of Jessica's new assistant. She replaces Malcolm, who is now working for Jeri Hogarth (Carrie-Anne Moss) at her firm. Speaking about her relationship with Jessica, Aneesh said: "I think there's a line in the first episode where she says, 'I brought her on just because she does her job and she doesn't bother me.'

"She makes a point where she says, 'I want to keep her at arm's length, but she does a good job.' I think the relationship there is very much like, 'I appreciate the work she does for me, but I really don't want to get personal with her.'"

Aneesh described Gillian as "definitely not the quiet type. She's very sassy, she has snarky comments all the time."

What do they clash over? "Mostly time. Gillian loves to be on the clock and out of there by 5 o'clock." Aneesh is excited to bring her own gender identity to her role. "I'm transgender and the character of Gillian is also trans, but there is no mention of her being trans within the show nor kind of a narrative around her identity, which I think is wonderful because trans people exist in the world. It's not always about their narrative. So I think it's just really great to have her exist and see where that story can take us."

She added: "It's exciting to be able to have a say in where I want the story to go. Marginalized actors are getting the power to create narratives within shows like this, that's really cool.

"I do appreciate that the show hasn't really talked about it up until this point. I'm very curious to see where we go. I think it's important in terms of representation to have people out there recognize that you've got a South Asian trans person on television who's kind of creating representation, but also how wonderful it is for that person to exist in a show without having to hit over the head and to avoid sensationalism."

Aneesh felt very much a part of the show from day one. "When I walked in on my first day -- it's season 3 so everyone's been here for so long -- it was kind of like walking into that family reunion, and you're like somebody's girlfriend (laughs). Everybody, by the end of the first day, even Krysten, made me feel very welcome."

So, what drives Gillian? "I think that the position that she's found was hard to come by . I think she's had to work really hard to get there. When I'm building her backstory, I think about where she came from, what was she doing before this. The other day it occurred to me that she probably has a journalism degree or something like that. I don't get my script until a couple of weeks before, so I'm always picking up on clues and figuring out a better way to make her more authentic and well-rounded."

Gregory Sallinger

Jeremy Bobb, who plays Gregory Sallinger, can't spill much about his mysterious role, but he's definitely a villain brought on the scene to cause trouble.

"I can tell you he's quite a nuisance to Jessica, and 'nuisance' is putting it pretty lightly. He comes in pretty early on in the season when it's discovered that he's doing some illegal things, and that he's discovered to be doing those things by happenstance.

"It's very random how it's discovered, and when he figures out that they've learned some of the stuff he's been up to, he gets pretty angry and starts to retaliate. When they stumble upon this stuff I think they feel like they've got to stop him now that they have this information, and they kind of egg each other on until it becomes way out of control."

So how evil is Gregory? Jeremy said: "He's a sizable antagonist with a lengthy character arc. I've worked pretty hard to make him not seem too evil or anything. On the surface he seems pretty harmless. He's not jacked, not like Luke Cage or anything. He has pretty normal activities outside of the stuff they discover about him that's buried very underground."

Giving us a bit more insight into his role, he added: "One thing from his childhood is he that he had some damaging stuff at home, and I think an escape for him was the wrestling team. So his antagonism -- physical antagonism -- is driven heavily in that way. He's definitely a one-man show. He's a solo act in the way he executes everything. It's definitely a system of his but he doesn't trust people easily."

Marvel's Jessica Jones is now streaming on Netflix. ~Marriska Fernandes