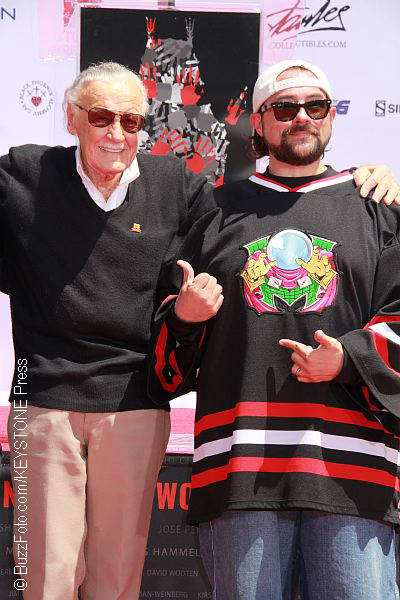 After seeing an article alleging that Marvel Comics legend Stan Lee is the victim of elder abuse, director Kevin Smith has invited the 95-year-old to move in with him.
Smith wrote on Twitter: "This is heartbreaking. We love you, @TheRealStanLee. You are always welcome to come live with me -- or please let us fans buy you a new place to live. We miss you, sir."
The Hollywood Reporter states that things changed for Lee after his wife Joanie's sudden death last year. Married for 70 years, she had been in charge of running the household and dealing with their only living daughter, J.C., 68, who is reportedly prone to violent outbursts and overspending, despite a trust put in place by her parents because she "had trouble supporting herself."
Lee, who is estimated to be worth between $50 million and $70 million, stated in a declaration signed in his lawyer's office last February that his daughter is being influenced by three men with "bad intentions" and that she has demanded changes to his trust. When he refuses to give in to her demands, including for more money, she "typically yells and screams at me and cries hysterically if I do not capitulate."
Linda Sanchez, a nurse who came on board after Joanie's passing, also completed a declaration with Lee's attorney in which she described J.C.'s verbal and physical altercations with her father. She said in the declaration that when J.C. learned Sanchez, who is married, was pregnant, "She starts going off, saying, 'When the baby's born, I'm going to get it.' Just going crazy."
Since then, J.C. and her friends allegedly convinced Lee to hire a new lawyer. He also has a new accountant, and his housekeeper and gardener, who had been with Lee for decades, have been fired.
The full Hollywood Reporter article can be read by clicking here. ~Alexandra Heilbron




This is heartbreaking. We love you, @TheRealStanLee. You are always welcome to come live with me - or please let us fans buy you a new place to live. We miss you, sir. https://t.co/egR7Ijv2pi


— KevinSmith (@ThatKevinSmith) April 10, 2018