Hitman's Wife's Bodyguard is a follow-up to the 2017 film The Hitman's Bodyguard.

The film's storyline is bizarre and quite outrageous, but the movie has one thing going for itself: the outstanding performances by the cast who are nothing short of hilarious.

Former Triple-A rated bodyguard Michael Bryce (Ryan Reynolds) finds himself in therapy to work through his issues after his encounter with Darius Kincaid (Samuel L. Jackson) in the prior film. He is advised to go on sabbatical and to avoid any use of guns or violence.

However, violence seems to follow him as Sonia Kincaid (Salma Hayek) reaches out to him, guns blazing, and demands he helps her save her husband Darius (Jackson) from the mafia. They get involved with an Interpol investigation led by Bobby O'Neill (Frank Grillo) and have to help stop an attack on Europe by Greek mafia boss Aristotle Papadopolous (Antonio Banderas).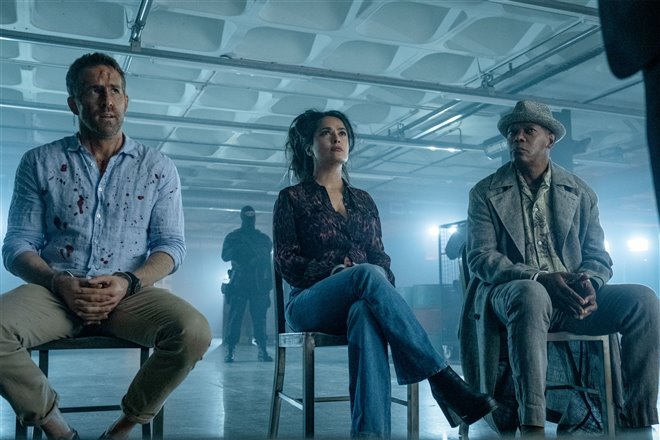 This sequel was incredibly entertaining. There was well-written dialogue in play with tongue-in-cheek lines that were delivered spot-on by the leading trio. Samuel L. Jackson and Ryan Reynolds have crackling chemistry, making them a big-screen duo who keeps you entertained and along for the ride.
Salma Hayek actually managed to outshine them with dialogue that could only be delivered by her. The delivery of some raunchy lines could have easily been butchered by anyone else.
The plot doesn't make sense as Aristotle plans to destroy the rest of Europe in order to bring Greece to victory. But as you watch the film, you begin to care less about the plot and more about the quips and quirks from the trio. Together, they make you forgive the rest of the film's flaws. The film plays on the strengths of the actors and their superb comic timing. I'd totally watch this film again with my crew – just for kicks.
Audiences are going to have a blast with this buddy comedy action flick. As theaters and drive-ins start to open again, this is a perfect summer film to get family and friends back to the big screen. ~Marriska Fernandes
Hitman's Wife's Bodyguard debuted today in theaters.