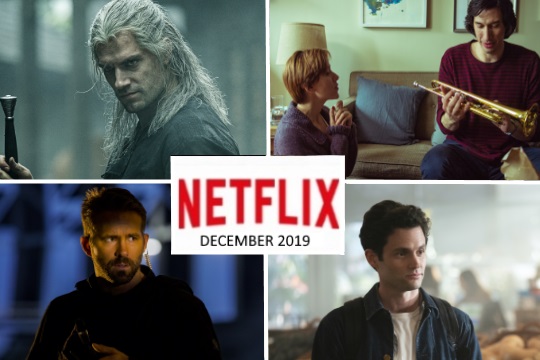 It's that feel-good time of the year when all you want to do is stay in with a cup of hot cocoa and watch Christmas movies with the family while it snows outside. Netflix is gifting us with a lot of new content this month, including original films and series.
Fan favorite series You will be returning for a second season and The Witcher, based on the popular novel, will also be a hit with fans. Check out what's on the menu this month as you sip on eggnog and mulled wine.
Deck the Halls with Originals
If you love the Christmas Prince movies, this one will make you royally happy. In A Christmas Prince: The Royal Baby (Dec. 5), Christmas brings the ultimate gift to Aldovia: a royal baby. But first, Queen Amber must help her family and kingdom by finding a missing peace treaty.
In a new series titled Home for Christmas (Dec. 5), we see perpetually single Johanne who is fed up with the constant comments on her relationship status, and so she starts looking for a partner to bring home for Christmas.
Netflix original film Marriage Story (Dec. 6) is a film that premiered at TIFF and received rave reviews. Academy Award-nominated filmmaker Noah Baumbach directed this incisive and compassionate look at a marriage coming apart and a family staying together.
Ryan Reynolds... (do I have your attention now?) The good-looking Canadian stars in the gritty globe-trotting action adventure from director Michael Bay, titled 6 Underground (Dec. 13). Six untraceable agents go totally off the grid. They've buried their pasts so they can change the future. With Reynolds starring, we say abs-olutely!
Based on the popular fantasy novel of the same name, Netflix original series The Witcher (Dec. 20) follows the witcher Geralt, a mutated monster hunter who struggles to find his place in a world where people often prove more wicked than beasts. Oh, and did I mention it stars Henry Cavill?
Our favorite stalker is back for a second season of You (Dec. 26). This time around we see that Joe is laying low and hiding from his ex in Los Angeles. Can he deal with his past and make a fresh start, this time with the right woman? Doubtful. But let's watch to find out.
Christmas Cheers
Of course, Christmas needs some holiday spirit. Netflix will be streaming How the Grinch Stole Christmas (Dec. 4) and A Cinderella Story: Christmas Wish (Dec. 1) among others.
Naughty or Nice?
Whether you've been naughty or nice, you can spice up your holiday movie playlist with these fan favorite flicks. Oscar-winning film The Shape of Water (Dec. 1) is my personal favorite. You can sing along to tunes as Hugh Jackman wins us over in The Greatest Showman (Dec. 1). You can laugh your heart out with Dwayne Johnson and Kevin Hart in Jumanji: Welcome to the Jungle (Dec. 5). If you're into action, there's Terminator Genisys (Dec. 1) for you.
We Heart the Holidays
With the holidays, it's time to cozy up to your partner and spend some quality time watching rom-coms. If you're single, you can enjoy your independence and still enjoy these classics with your squad. There's Notting Hill (Dec. 1), Made of Honor (Dec. 31), Tom Hanks' The Terminal (Dec. 1) and Leo and Kate in Titanic (Dec. 1).
Have a warm, wonderful and happy holiday season! Merry Christmas! ~Marriska Fernandes
Here's everything coming to Netflix in December and scroll below to see what's leaving. Click here to see our photo gallery of Netflix December Originals.
Dec.1
Dead Kids - Netflix Film
A Cinderella Story: Christmas Wish
American Made
Crocodile Dundee
Dinner for Schmucks
Eastsiders: Season 4
Gladiator
Look Who's Talking Too
Steel Magnolias
Terminator Genisys
The Duchess
The Greatest Showman
The Lovely Bones
The Shape of Water
The Terminal
Titanic
Dec. 2
Miraculous: Tales of Ladybug & Cat Noir: Season 3: Part 1
Team Kaylie: Part 2 - Netflix Family
Dec. 3
Especial de Natal Porta dos Fundos: A Primeira Tentação de Cristo Netflix Film
Tiffany Haddish: Black Mitzvah <
Dec. 4
Let's Dance Netflix Film
Los Briceño - Netflix Original
Magic for Humans: Season 2 - Netflix Original
About a Boy
Baby Mama
Charlie Wilson's War
Cinderella Man
How the Grinch Stole Christmas
Jarhead
Lock, Stock and Two Smoking Barrels
Notting Hill
Savages
The Blacklist: Season 6
The Bone Collector
Dec. 5
A Christmas Prince: The Royal Baby - Netflix Film
Apache: La vida de Carlos Tevez Netflix Original
Greenleaf: Season 4
Home for Christmas - Netflix Original
Jumanji: Welcome to the Jungle
V Wars - Netflix Original
Dec. 6
Astronomy Club: The Sketch Show - Netflix Original
The Chosen One: Season 2 - Netflix Original
The Confession Killer  - Netflix Documentary
Fuller House: Season 5 - Netflix Original
Glow Up - Netflix Original
Marriage Story - Netflix Film
Spirit Riding Free: The Spirit of Christmas - Netflix Family
Teasing Master Takagi-san: Season 2 - Netflix Anime
Three Days of Christmas - Netflix Original
Triad Princess - Netflix Original
Virgin River - Netflix Original
Dec. 8
Light of My Life
RuPaul's Drag Race Holi-Slay Spectacular
Dec. 9
A Family Reunion Christmas - Netflix Family
Shameless (U.S.): Season 9
Dec. 10
12 Strong
Michelle Wolf: Joke Show - Netflix Original
Dec. 12
Especial de Natal Porta dos Fundos - Netflix Film
Jack Whitehall: Christmas with my Father - Netflix Original
Dec. 13
6 Underground - Netflix Film
Dec. 14
RuPaul's Drag Race: All Stars: Season 4
Dec. 15
Northern Rescue: Season 1
Star Trek
Dec. 17
Ronny Chieng: Asian Comedian Destroys America! - Netflix Original
Dec. 18
Don't F**k With Cats: Hunting an Internet Killer - Netflix Documentary
Soundtrack - Netflix Original
Dec. 19
After The Raid - Netflix Documentary
Ultraviolet: Season 2 - Netflix Original
Twice Upon a Time - Netflix Original
Dec. 20
Pet Sematary
The Two Popes - Netflix Film
The Witcher - Netflix Original
Dec. 24
CAROLE & TUESDAY: Part 2 - Netflix Anime
Como caído del cielo - Netflix Film
Crash Landing on You - Netflix Original
John Mulaney & The Sack Lunch Bunch - Netflix Original
Lost in Space: Season 2 - Netflix Original
TERRACE HOUSE: TOKYO 2019-2020: Part 2 - Netflix Original
Dec. 25
All the Money in the World
Dec. 26
The App- Netflix Film
Le Bazar de la Charité - Netflix Original
Fast & Furious Spy Racers - Netflix Family
You: Season 2 - Netflix Original
Dec. 27
The Gift -- NETFLIX ORIGINAL
Kevin Hart: Don't F**k This Up - Netflix Documentary
Dec. 28
Hot Gimmick: Girl Meets Boy - Netflix Film
Dec. 30
Alexa & Katie: Season 3 - Netflix Family
The Disastrous Life of Saiki K.: Reawakened - Netflix Anime
Dec. 31
The Degenerates: Season 2 - Netflix Original
Happy Death Day
Made of Honor
The Neighbor - Netflix Original
Suits: Season 9
Yanxi Palace: Princess Adventures - Netflix Original
Last Call
Dec. 2
Lady Bird
Dec. 14
The Good Wife: Season 1-6
Dec. 17
The Fall: Series 1-3