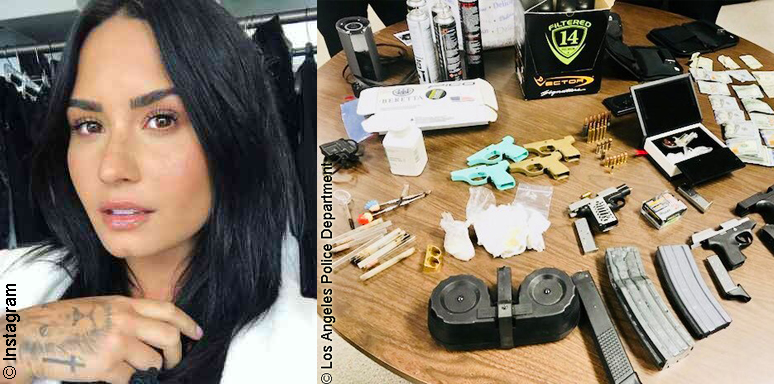 An arrest warrant has been issued for Brandon Johnson, the drug dealer who allegedly gave singer Demi Lovato "dirty" prescription drugs the night she overdosed in July.
The Los Angeles District Attorney issued a bench warrant on Monday after the 31-year-old dealer failed to show up for his arraignment in relation to an earlier arrest. Once apprehended, he will be arrested again and held on $26,000 bail.
Although he was due in court for a DUI and cocaine possession, this is not Johnson's first run-in with the law. In March he was arrested for felony possession of narcotics and a firearm, and reportedly had $10,000 in cash on his person. Police searched his home and uncovered "additional narcotics, ammunition, high capacity gun, rifle magazines and three handguns, one of which was stolen," as reported by the Los Angeles Daily News. Pictured above at right are some of the items the L.A.P.D. found in his possession.
Johnson has admitted to providing Demi, 26, with drugs the night she overdosed but won't face legal repercussions for the incident because it was treated as a medical emergency rather than a crime.
In his testimony, Johnson insisted Demi knew what she was taking and had been told the drugs were not pharmaceutical. She reportedly ingested oxycodone laced with fentanyl and was found unconscious and unresponsive in her bed the next morning by an assistant who called 911. Following hospitalization, Demi was admitted into rehab.
Her mother, Dianne de la Garza, recently broken her silence about her daughter's terrifying overdose and revealed it took two days before they knew whether or not Demi was going to survive.
"She just didn't look good -- at all. She was in bad shape." Dianne credits her faith for helping her through the difficult time, particularly when it was uncertain if Demi was going to recover.
"I prayed, of course, all the way to the hospital, and my faith is strong. I think that was one of the things that got me through the next couple of days when was in critical condition. We just didn't know for two days if she was going to make it or not."
At the end of the interview, Dianne thanked the show for allowing her to express herself and bring awareness to the opioid crisis in America that she says is at an "epidemic level."
"It's something that, if it has not touched your family's life right now, before this gets any better, it has every chance of doing that. So thank you for helping me speak out. I want to do whatever I can in this fight and fight with whoever will help." ~Caitlyn Clancey