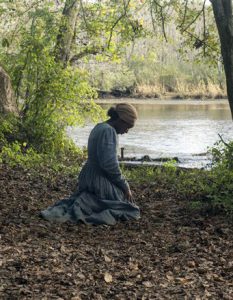 In anticipation of the upcoming 92nd Oscars, the Academy of Motion Picture Arts and Sciences has announced the performers for the awards show.
Cynthia Erivo, Idina Menzel, Chrissy Metz, and  Oscar-winners Elton John and Randy Newman are set to perform during the ceremony.
Cynthia Erivo (pictured at left in Harriet) will be performing her original song "Stand Up" from Harriet. Idina Menzel is set to perform "Into the Unknown" from Frozen II, Elton John is performing "(I'm Gonna) Love Me Again" from Rocketman, Chrissy Metz will perform "I'm Standing With You" from Breakthrough, and Randy Newman is performing "I Can't Let You Throw Yourself Away" from Toy Story 4.
In addition to these five performers there will be a guest appearance by Questlove and a guest-conducted segment by composer Eimear Noone, the first woman ever to conduct during an Oscars broadcast.
The 92nd Oscars will air live from the Dolby Theater in Hollywood on February 9th, 2020.