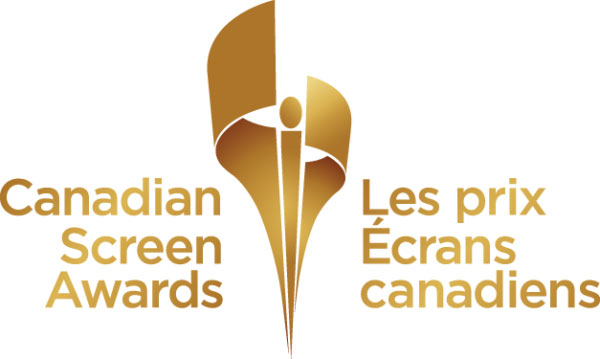 The Canadian Screen Awards announced the first set of winners in News & Documentary, presented by CBC, as well as at CTV presents the Canadian Screen Awards - Lifestyle & Reality.
Presented by the Academy of Canadian Cinema & Television, the week-long event recognizes excellence in Canadian film, television and digital media. Due to the pandemic, the awards are being presented virtually for a second year in a row and hosted on the academy's website and social media pages.
Whether you're in Canada or not, viewers from all aound the world can watch the awards all week on Academy.ca, and on their YouTube (The Canadian Academy) and Twitter (@TheCdnAcademy) pages.
The rest of the week's scheule is as follows:
Tuesday, May 18, 2021
7:00 PM ET: Canadian Screen Awards - Children's & Animation, Presented by Shaw Rocket Fund (Narrator: Eric Bauza)
8:00 PM ET: Canadian Screen Awards - Digital & Immersive, Presented with the participation of the Independent Production Fund (Narrator: Donté Colley)
Wednesday, May 19, 2021
7:00 PM ET: CTV presents the Canadian Screen Awards - Creative Arts & Performance (Narrator: Tyrone Edwards)
Thursday, May 20, 2021
7:00 PM ET: Canadian Screen Awards - Cinematic Arts, Presented by Telefilm Canada, Supported by Cineplex (Narrator: Nahéma Ricci)
8:00 PM ET: 2021 Canadian Screen Awards (Narrators: Stephan James and Karine Vanasse)
For the complete first set of winners of the News and Documentary and Lifestyle and Reality sections, see below:
NEWS & DOCUMENTARY, PRESENTED BY CBC
Rob Stewart Award for Best Science or Nature Documentary Program or Series
Takaya: Lone Wolf
CBC (CBC)
(Cineflix (Takaya) Inc. / Talesmith / MBM TV)
André Barro, Martin Williams, Cheryl Alexander, Bruce Whitty, Kim Bondi, Gaby Bastyra
Watch on CBC Gem
Watch on BBC Four
Best News or Information Segment
APTN Investigates - Writing Home
APTN (APTN)
(APTN)
Best News or Information Program
W5: The Invisible Man
CTV (Bell Media)
(W5)
Best News or Information Series
CBC News: The Fifth Estate
CBC (CBC)
(CBC News)
Best Live News Special
CBC News: The National - May 31, 2020
CBC (CBC)
(CBC News)
Gordon Sinclair Award for Broadcast Journalism
Anton Koschany
Best Photography, News or Information
W5 - The Survivors
CTV (Bell Media)
(W5)
Jerry Vienneau
Best Local Reporter
CBC Vancouver News at 6
CBC British Columbia (CBC)
(CBC Vancouver)
Angela Sterritt
Best National Reporter
CBC News: The National
CBC (CBC)
(CBC News)
Christine Birak
Best Host or Interviewer, News or Information
CBC News: Marketplace
CBC (CBC)
(CBC News)
Asha Tomlinson
Best News Anchor, Local
CBC Toronto News at 6
CBC Toronto (CBC)
(CBC Toronto)
Dwight Drummond
Best Local Newscast
CityNews at 6
Citytv (Rogers Media)
(Citytv)
Best News Anchor, National
CTV National News with Lisa LaFlamme
CTV News (Bell Media)
(CTV News / Bell Media Inc.)
Lisa LaFlamme
Best National Newscast
CTV National News with Lisa LaFlamme
CTV News (Bell Media)
(CTV News / Bell Media Inc.)
Academy Board of Directors' Tribute
Robin Mirsky
Donald Brittain Award for Best Social/Political Documentary Program
9/11 Kids
documentary Channel (CBC)
(Saloon Media / Blue Ant Studios)
Steve Gamester, Michael Kot, Betty Orr, Elizabeth St. Philip
Best Writing, Factual
Still Standing - Rankin Inlet, NU
CBC (CBC)
(Frantic Films)
Jonny Harris, Fraser Young, Graham Chittenden, Steve Dylan
Best Writing, Documentary
Toxic Beauty
documentary Channel (CBC)
(White Pine Pictures)
Phyllis Ellis
Best Picture Editing, Factual
Every Child Matters
CBC (CBC)
(Insight Productions Ltd.)
Craig Anderson, Cathy Gulkin, C.C.E., James Kinistino, Ken Yan
Best Picture Editing, Documentary
She Walks with Apes
CBC (CBC)
(Grand Passage Media Inc.)
Carole Larsen
Best Editing in a Feature Length Documentary | Meilleur montage dans un long métrage documentaire
Natalie Lamoureux - A Woman, My Mother | Une femme, ma mère
Best Sound, Non-Fiction
Once Were Brothers: Robbie Robertson and The Band
Crave (Bell Media)
(White Pine Pictures)
Chris Jenkins, Sal Ojeda, Dave Draper, Alejandro Ramos Ariansen, Paul Corscadden, Brian Bentz, Max Phillips, Liam Able, Robert Carr, Robert Cooper, Michael Novitch, Stephan Carrier, Scott Hitchon, Paolo Amati, Adam Raley, Jack Madigan
Best Original Music, Non-Fiction
A Bee's Diary
CBC (CBC)
(Handful of Films Inc.)
Darren Fung
Best Production Design or Art Direction, Non-Fiction
Canada's Drag Race - Eh-Laganza Eh-Xtravaganza
Crave (Bell Media)
(Saloon Media / Blue Ant Studios)
Peter Faragher
Best Cinematography in a Feature Length Documentary | Meilleures images dans un long métrage documentaire
Ryan A. Randall - Workhorse
Best Photography, Documentary or Factual
Enslaved: The Lost History of the Transatlantic Slave Trade - Cultures Left Behind
documentary Channel (CBC)
(Associated Producers Ltd. / Cornelia Street Productions)Derek Rogers, Paul Jenkins, Elad Winkler, Martin Buzora, Richard Stevenson, Tom Pridham, David Mariottini
Best Short Documentary | Meilleur court métrage documentaire
Sing Me a Lullaby - Tiffany Hsiung, Priscilla Galvez
Barbara Sears Award for Best Editorial Research
Enslaved: The Lost History of the Transatlantic Slave Trade - Resistance
documentary Channel (CBC)
(Associated Producers Ltd. / Cornelia Street Productions)
Margot Daley, Gabi Veras, Anthony Cantor, Avi Merkado-Ettedgui, Andrew Theobald, Brennan Leffler
Barbara Sears Award for Best Visual Research
Cheating Hitler: Surviving the Holocaust
History (Corus Entertainment)
(Saloon Media / Blue Ant Studios)
Elizabeth Klinck, Elspeth Domville, Monica Penner
Best Direction, Documentary Program
Toxic Beauty
documentary Channel (CBC)
(White Pine Pictures)
Phyllis Ellis
Best Direction, Documentary Series
Being Black In Toronto
CBC (CBC)
(ZaZa Production)
Omolola Ajao, Valerie Amponsah, Yasmin Evering-Kerr, Sharine Taylor, Adrian Wallace, Yvano Wickham-Edwards
Best History Documentary Program or Series
Enslaved: The Lost History of the Transatlantic Slave Trade
documentary Channel (CBC)
(Associated Producers Ltd. / Cornelia Street Productions)
Simcha Jacobovici, Samuel L. Jackson, LaTanya Richardson Jackson, Ric Esther Bienstock, Sarah Sapper, Yaron Niski, Eli Selden, Rob Lee, Felix Golubev, Tara Jan
Best Biography or Arts Documentary Program or Series
Best Wishes, Warmest Regards: A Schitt's Creek Farewell
CBC (CBC)
(Not A Real Company Productions, Inc.)
Eugene Levy, Daniel Levy, Amy Segal, Andrew Barnsley, Fred Levy, Sally Catto, Trish Williams, Greig Dymond, Brad Schwartz, Elizabeth Allan-Harrington, Gabrielle Free
Best Factual Series
You Can't Ask That
CBC (CBC)
(Productions Pixcom Inc.)
Izabel Chevrier, Nicola Merola, Charles Lafortune, Sylvie Desrochers, Jacquelin Bouchard
Best Documentary Program
Hockey Mom
CBC (CBC)
(Hockey Mom Films Inc)
Teyama Alkamli, Andrew Moir
CTV PRESENTS THE CANADIAN SCREEN AWARDS - LIFESTYLE & REALITY
Best Talk Program or Series
CBC News: Power & Politics
CBC (CBC)
(CBC News)
Vassy Kapelos, Sara Brunetti, Nicolle Arams, Paul Bisson
Best Variety or Entertainment Special
Aisha Brown: The First Black Woman Ever
Crave (Bell Media)
(Juste Pour Rire TV Inc.)
Bruce Hills, Aisha Brown, Anton Leo, Blake Gregory, Brent Schiess
Best Entertainment News Program or Series
Stronger Together, Tous Ensemble
CTV (Bell Media)
(Insight Productions Ltd.)
John Brunton, Lindsay Cox, Randy Lennox, Mike Cosentino, Tyson Parker, Barbara Williams, Sally Catto, Jennifer Dettman, Erin Brock, Mark Lysakowski, Pam de Montmorency, Mike Langevin, Rose Marra, Liam Colle, Luciano Casimiri, Kristeen Von Hagen, Maureen Riley
Best Performing Arts Program
We're Funny That Way: The Virtual Pride Special
CBC (CBC)
(Project 10 Productions Inc.)
Maggie Cassella, Andrew Barnsley, Katie Ford, David Kitching, Benjamin Murray
Best Morning Show
Breakfast Television
Citytv (Rogers Media)
(Rogers Media)
Roshni Murthy, Laura Reiter
Best Host, Talk Show or Entertainment News
Jann Arden One Night Only
CTV (Bell Media)
(Bell Media Studios)
Jann Arden
Best Host, Live Entertainment Special
2019 Scotiabank Giller Prize
CBC (CBC)
(Frank Content)
Jann Arden
Best Host, Lifestyle
Mary's Kitchen Crush
CTV (Bell Media)
(Proper Television)
Mary Berg
Best Host or Presenter, Factual or Reality/Competition
Canada's Drag Race
Crave (Bell Media)
(Saloon Media / Blue Ant Studios)
Brooke Lynn Hytes, Jeffrey Bowyer-Chapman, Stacey McKenzie
Best Writing, Lifestyle or Reality/Competition
Canada's Drag Race - Welcome to the Family
Crave (Bell Media)
(Saloon Media / Blue Ant Studios)
Mike Bickerton, Elvira Kurt, Jen Markowitz
Best Picture Editing, Reality/Competition
Stronger Together, Tous Ensemble
CTV (Bell Media)
(Insight Productions Ltd.)
Andrew Gurney, Al Manson, Jeff Perry, Ken Yan
Best Photography, Lifestyle or Reality/Competition
Restaurants on the Edge - Austria
Cottage Life (Blue Ant Media)
(marblemedia)
Joe Queenan
Best Lifestyle Program or Series
Mary's Kitchen Crush
CTV (Bell Media)
(Proper Television)
Cathie James, Lesia Capone, Allison Grace, Garrett Wintrip
Best Direction, Lifestyle or Information
Property Brothers: Forever Home - Michelle & Chris
HGTV (Corus Entertainment)
(Scott Brothers Entertainment Inc.)
Cheryl Zalameda
Best Direction, Reality/Competition
Canada's Drag Race - U Wear It Well
Crave (Bell Media)
(Saloon Media / Blue Ant Studios)
Shelagh O'Brien
Best Direction, Factual
Paranormal Nightshift - Clown Boy's Revenge, She Follows Me, and I.T.
T+E (Blue Ant Media)
(BGM Inc.)
Sharon Lewis, Timothy Wolochatiuk, Tobin Long, Sebastian Cluer
Best Reality/Competition Program or Series
Canada's Drag Race
Crave (Bell Media)
(Saloon Media / Blue Ant Studios)
Michael Kot, Laura Michalchyshyn, Betty Orr, Mike Bickerton, Pam McNair, RuPaul Charles, Fenton Bailey, Randy Barbato, Tom Campbell, Randy Lennox, Tracey Pearce, Jen Markowitz