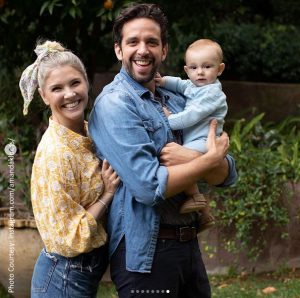 Canadian Broadway star Nick Cordero has died after spending more than three months in hospital with COVID-19 complications. He was 41.
"God has another angel in heaven now. My darling husband passed away this morning. He was surrounded in love by his family, singing and praying as he gently left this earth," his wife, Amanda Kloots, confirmed in an Instagram post.
"I am in disbelief and hurting everywhere. My heart is broken as I cannot imagine our lives without him. Nick was such a bright light. He was everyone's friend, loved to listen, help and especially talk. He was an incredible actor and musician. He loved his family and loved being a father and husband. Elvis and I will miss him in everything we do, everyday,"
Cordero was initially admitted to the ICU at Cedars-Sinai Medical Center in Los Angeles on March 31. He was suspected to be suffering from pneumonia but later tested positive for the virus. He spent several weeks in a medically-induced coma on a ventilator and suffered several complications including clotting issues which led to the amputation of his right leg.
On May 12, Kloots announced Cordero had woken up from his coma. He was still very weak and unable to communicate. Since then, Kloots said Cordero had started "tracking" with his eyes and answering simple questions by looking up or down.
Throughout his hospitalization, Kloots had been posting almost daily "Nick Updates," including heartwarming stories of Cordero's time as a husband and father. Every day at 3 pm PDT, Kloots encouraged all her followers to dance and sing to Cordero's song "Live Your Life."
Cordero grew up in Hamilton, Ontario and attended Ryerson University for acting. He starred in multiple Broadway shows including Rock of Ages, Waitress, A Bronx Tale and Bullets Over Broadway, earning a Tony nomination for his role as Cheech in the latter. He is survived by his wife and their one-year-old son Elvis.
A GoFundMe page was created to help with Cordero's medical bills. The initial goal was $400,000 but at the time of publication, it has already reached more than $785,000. ~Brie Davis
https://www.instagram.com/p/CCSBM89Axt_/