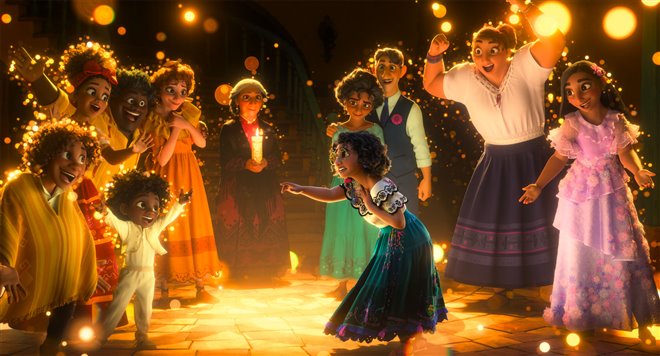 With three newcomers launching and all three debuting in the top five at the box office weekend, Hollywood produced a tremendous harvest. Encanto follows in Disney's tradition of releasing animated films around the Thanksgiving holiday.
The new animated musical, Encanto, about a magical household in Colombia, worked its magic and dominated at the box office this weekend. It grossed $27 million, bringing its total to $40.3 million since its release on Wednesday. The musical fantasy with a Columbian theme is directed by Byron Howard and Jared Bush. The voice cast for Mirabel is led by Stephanie Beatriz, and incorporates Lin-Manuel Miranda's music. Encanto is scheduled to be launched this week in much of the rest of the world, and will be in decent enough shape to endure through the holidays.
Ghostbusters: Afterlife slid to second place with $24.5 million in box office receipts. On Thanksgiving Day, it surpassed the $50 million milestone, and with the weekend box office it now has a total of $87.7 million.
House of Gucci previews caused a buzz on social media, with fans eager to see the film in theaters. The glitzy criminal thriller, directed by Ridley Scott, is inspired by the true story of the family behind the Italian fashion dynasty Gucci. It stars Lady Gaga and Adam Driver and grossed $14.2 million over the weekend for a five-day total of $21.8 million since its debut on Wednesday.
With an additional $7.9 million in revenue, Marvel and Disney's Eternals slipped from second to fourth place. The MCU fantasy four-week total has surpassed the $150 million mark.
Rounding out the top five was Resident Evil: Welcome to Raccoon City, which debuted on Wednesday in time for Thanksgiving. It took in $5.2 million over the weekend for a five day total gross of $8.8 million. After a five-year wait, the series returned, and the new film mimics the plot of the first two games, bringing it closer to the video games in terms of both aesthetic and story than the previous series. ~Manal Amir