12 Strong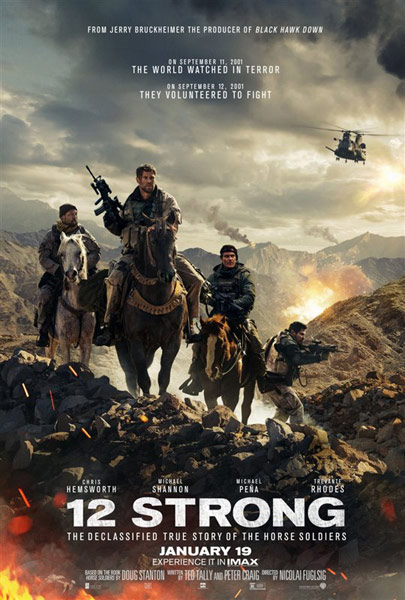 is the story of the first American soldiers sent to Afghanistan after the events of 9/11. It's a personal look at the journey of these men and their leaders: Captain Mitch Nelson (Chris Hemsworth) and Chief Warrant Officer Hal Spencer (Michael Shannon).

The movie is a focused look at the events and how this mission took place, through the eyes of the men. Sent to Afghanistan to take down Taliban forces, they are put into contact with Afghan allies in the form of General Dostum (Navid Negahban) and his army of Afghan men.

The Afghans are grateful that the Americans are stepping in and feel a great responsibility for them. At one point, Dostum says hundreds of his men could be killed in the line of fire and no one would care, but if one American is killed, the end result could lead to no help from Americans in future.

And that would make a difference in this war -- the Americans have the ability to drop bombs on the exact spots where the Taliban are dwelling, and without that, the Afghans have little chance to win a battle against them.

12 Strong is very well written and immaculately presented. I was glued to the screen to see what would happen next and at no point did the film lose my interest or tell the story in such a way that I lost sight of what was actually happening.

The battles weren't drawn out -- there was never a mess of people running around gratuitously -- the audience is right there with each of the men we've grown to know and care about and we see what exactly they're doing, what problems they're having and how they get through each skirmish. I found it incredibly fascinating.

Michael Shannon, as always, is a standout. The quiet strength he brings to each role he portrays is spellbinding -- I found it hard to take my eyes from him when he was on the screen. Chris Hemsworth as Captain Nelson also portrays strength -- although in a less quiet way -- as a younger man who's been tasked to lead his men, despite never having been in combat. He has a constant struggle with Dostum, who can tell Nelson is not as experienced a soldier as Spencer (the character played by Michael Shannon), and he challenges the younger man at every opportunity.

The film is based on a book called Horse Soldiers, and that's because early in the movie, Dostum offers Nelson and his men six horses, despite the fact that many of them have never ridden and there are 12 of them. This presents more than one predicament and the audience is left wondering -- is this a trap? Can these men trust the Afghans? And possibly worst of all, can they actually ride into battle with no experience on horseback?

Surprisingly, they do very well, especially Nelson (played by Hemsworth, an experienced rider), who at one point in the script explains he was raised on a horse ranch, so if you are into riding scenes (count me in), there are plenty.

Overall, this was a fantastic film with a great story -- definitely worth a night out at the movies. ~Alexandra Heilbron

If you have seen 12 Strong and would like to rate and/or review it, click here.