Warriors of the Rainbow: Seediq Bale
Thank you for rating this movie!
Read your review below. Ratings will be added after 24 hours.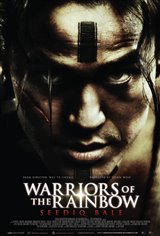 ---
Please rate between 1 to 5 stars
Showing 1 to 4 of 4
May 10, 2012
john woo needs to make a movie about 2-28 the white terror instead of this stupid nonsense which is none in comparison of importance. it figures since he came from mainland china.
May 10, 2012
try to look up 228 or white terror. when chinese government suppressed taiwan by force because japan lost the 2nd world war, thousands of prominent taiwanese vanished killed, imprisoned for lifetime without reason. the chinese government forbade all discussion of the event for fifty years. no mention of the 2-28 incident appeared in textbooks. families dared not even speak the names of relatives who were killed or who disappeared. a well known village doctor who everyone loved was imprisoned. when the villagers asked for his release, the chinese government gave him life sentence. don't ever call a real taiwanese a chinese please!!! you will know the difference because mainlanders from
May 10, 2012
why doesn't john woo make a movie about 228? now that is a big event in taiwan and much more recent,where the chinese came and killed doctors, lawyers, teachers, any intellects. my grandpa was a teacher, watched his friend die in a classroom in front of kids. real taiwanese prefer japanese to chinese any day!!!don't know what john woo is thinking
May 09, 2012
excellent documentary movie based on true event in taiwan during late 1800s'. although it's a bit violent, great spirits of these true warriors. a side note, this reminds me of avatar - civilization v.s. the noble savage ...i wonder if avatar copying from this true event.lol