MANY THEATERS ARE NOW CLOSED. WE WILL CONTINUE TO POST UPDATES.
Viper Club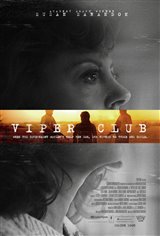 0 votes and 0 Reviews
Rotten Tomatoes® Score


36%

50%
In Theaters: October 26, 2018 (limited)
R | 1h 49m | Thriller
---
Helen (
Susan Sarandon
) is an E.R. nurse and the proud mother of a journalist son who is reporting overseas in the Middle East. One day she receives an email from a group in Syria who claim to have kidnapped her son. They are demanding $20 million in ransom money for his release. When she seeks out help from American officials, she is told they can't legally pay the ransom and won't be sending in anyone to help save him.
Just when it seems there is no one left to turn to, Helen learns of an underground network of journalists, advocates and philanthropists who are willing to help her raise the funds to pay her son's ransom. Aided by the likes of Sam (Matt Bomer) and Charlotte (Edie Falco), Helen sets out on a dangerous crusade to save her son, risking everything she has and stopping at nothing to get him back.
---
Change Location