MANY THEATERS ARE NOW CLOSED. WE WILL CONTINUE TO POST UPDATES.
The Wizard of Oz 80th Anniversary
The Wizard of Oz 80th Anniversary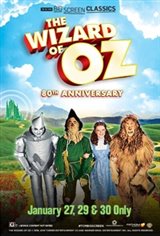 ---
Fathom Events, TCM and Warner Bros. presents The Wizard of Oz returning to select cinemas for a special 80th anniversary event! In this classic musical fantasy, Judy Garland stars as Dorothy Gale, a young Kansas farm girl who dreams of a land "somewhere over the rainbow." Dorothy's dream comes true when she, her dog, Toto, and her family's house are transported by a tornado to a bright and magical world unlike anything she has seen before. Fans young and old won't want to miss this special showing! This beloved classic includes exclusive insight from Turner Classic Movies.
---
Change Location