MANY THEATERS ARE NOW CLOSED. WE WILL CONTINUE TO POST UPDATES.
The War at Home (1979)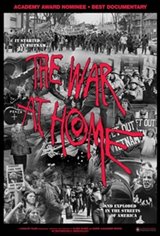 ---
In October 1967, recruiters from the Dow Chemical Company, producer of Napalm, made a trip to the University of Wisconsin's Madison campus. Met by protesters, the confrontation escalated into brutal police retaliation. The violence that erupted in Madison presaged a nationwide shift from protest to resistance.
The war in Vietnam had turned into the war at home, and Madison was to become one of the main battlegrounds. As Roger Ebert wrote when the movie was released in 1979, The whole world was watching. Remember?
---
Change Location