MANY THEATERS ARE NOW CLOSED. WE WILL CONTINUE TO POST UPDATES.
The Rise of Jordan Peterson
The Rise of Jordan Peterson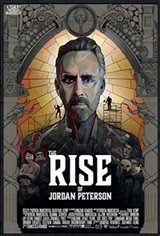 ---
A rare, intimate glimpse into the life and mind of Jordan Peterson, the academic and best-selling author who captured the world's attention with his criticisms of political correctness and his life-changing philosophy on discovering personal meaning. Christened as the most influential public intellectual in the western world, University of Toronto psychology professor Jordan Peterson skyrocketed to fame after he published a controversial viral video series entitled Professor Against Political Correctness in 2016. Within 2 years, he sold over 3 million copies of his self-help book, 12 Rules For Life, and became simultaneously branded by some as an academic rockstar selling out theatres around the world, and by others as a dangerous threat to progressive society.
---
Change Location