MANY THEATERS ARE NOW CLOSED. WE WILL CONTINUE TO POST UPDATES.
The Masters of Suspense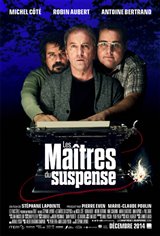 ---
Hubert Wolfe, a successful author who hasn't written anything for 10 years, is living a life of lies. He uses a ghostwriter named Dany—a prolific writer known for his genuineness of spirit as well as his antisocial behaviour—to write his novels. When Dany's life falls apart and he is no longer able to write, Hubert turns to another writer, Quentin, a soft-hearted man with a pure soul. The meeting of the three men turns each of their lives upside down. Their personal quests, swayed by the three women in their lives—one an anti-movie star, another a waitress with ties to the underworld, the third a hysterical wife—lead them into a series of unexpected situations and into a troubling world in a lost corner of the United States, far from their usual stomping grounds. In this strange land, each man begins to discover who he truly is and, ultimately, to rewrite his own life.
---
Change Location