MANY THEATERS ARE NOW CLOSED. WE WILL CONTINUE TO POST UPDATES.
The Idea of Manhood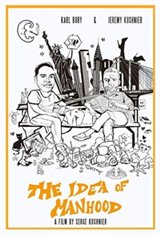 ---
Two old friends -- one a perpetual bachelor, the other unhappily married with two children -- unexpectedly spend one day together and end up debating each other's shortcomings. Throughout the booze-fueled, witdriven day, neither man backs down from telling it like they see it.
When the bachelor learns the married man has been having an affair with a much younger woman, he chastises him; not for sleeping with the 29-year-old bartender but for not leaving his abhorrent wife. The husband retorts by calling the bachelor out for having a Peter Pan complex and never settling down.
---
Change Location