MANY THEATERS ARE NOW CLOSED. WE WILL CONTINUE TO POST UPDATES.
The Fanatic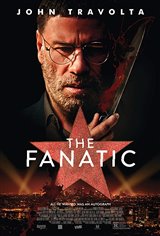 | 50 votes and 18 Reviews
Write a Review
In Theaters: August 30, 2019 (limited)
R | Thriller
---
Moose (John Travolta) is a rabid movie fan who is obsessed with his favorite celebrity action hero, Hunter Dunbar (Devon Sawa). When he is cheated out of his opportunity to finally meet Hunter, Moose gets a little help from his friend Leah (Ana Golja), a well-connected paparazzi photographer, who knows how to find celebrity homes.
Moose turns to stalking to get the celebrity interaction he feels he deserves, and while harmless at first, Moose's actions begin to take a dark turn when he bumps into Hunter Dunbar at his home and is told by the star to stay away from his neighborhood. Determined to get close to Hunter, Moose's visits continue to escalate, until Hunter Dunbar finds himself in serious danger.
---
Change Location