MANY THEATERS ARE NOW CLOSED. WE WILL CONTINUE TO POST UPDATES.
The Eddy (Netflix)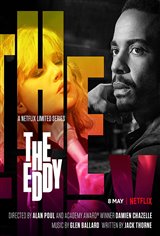 ---
Elliot Udo (André Holland), who was once a celebrated New York musician, deals with the everyday chaos of running a live jazz music venue in the heart of modern-day Paris. When he finds out his partner is involved in questionable business practices, he gets tangled up with dangerous and violent criminals as he fights to protect his club and his band.
To further complicate matters, his teenage daughter Julie (Amandla Stenberg) shows up out of the blue to ask him to come home to New York.
---
Change Location