MANY THEATERS ARE NOW CLOSED. WE WILL CONTINUE TO POST UPDATES.
The Dark Place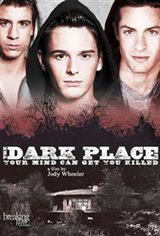 ---
Long estranged from his widowed mother, Keegan Dark is blessed with the uncanny ability to remember his life in videographic detail. This is both a blessing and a curse, keeping him at odds with his family and loved ones. Returning home with his boyfriend in tow to make amends with his mother, he's shocked to discover she remarried.
His family now includes a step-father and step-brother--and Keegan quickly surmises they aren't up to any good. His investigation into their past is derailed when his mother drops into a coma, his boyfriend seemingly leaves him and the town's sheriff targets him as the most likely culprit.
---
Change Location