MANY THEATERS ARE NOW CLOSED. WE WILL CONTINUE TO POST UPDATES.
Terra Willy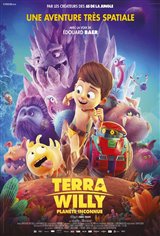 ---
Willy (Landen Beattie) loves traveling in space with his space traveler parents, but even so, when they're scheduled to go home to Earth, Willy is thrilled at the prospect of seeing his friends again. An asteroid field hits the ship, and Willy gets into one pod while his parents get into another. Willy's dad assures him that they won't be separated for long.
When the little boy makes an emergency landing on another planet, he meets his Personal Survival Module (a talking robot that can turn into a vehicle). Willy decides to make the most of his experience, taking photos of everything he sees and exploring wide and far. Along the way, he meets adorable creatures and no-so-adorable, scary ones. When the Personal Survival Module runs out of power and has to recharge, Willy wonders if his parents will ever come to get him.
| | |
| --- | --- |
| Studio: | MK2 | Mile End |
| Writer(s): | David Alaux, Eric Tosti, Jean-François Tosti |
---
Change Location