MANY THEATERS ARE NOW CLOSED. WE WILL CONTINUE TO POST UPDATES.
Synonyms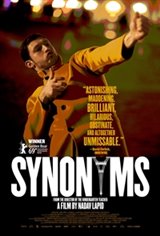 0 votes and 0 Reviews
Rotten Tomatoes® Score


87%

33%
In Theaters: October 25, 2019 (limited)
2h 3m | Comedy, Drama
---
In Paris, things do not exactly get off to a good start for the newly arrived Yoav (Tom Mercier). He knocks on the door of the flat where he's supposed to stay, only to discover the place is empty. While he is taking a bath there, his belongings are stolen. Yet this young Israeli, who has arrived with such great expectations, will not be dissuaded that easily. Desperate to erase his origins, Yoav sees becoming French as his only hope for salvation. Step one is to replace his language. From now on, he will not utter a single word of Hebrew and his dictionary becomes his constant companion. The necessary visits to the Israeli embassy annoy Yoav he finds his compatriots to be a total burden but the naturalization test also has its pitfalls. And the young French couple (Quentin Dolmaire and Louise Chevillotte) whom he befriends has some rather strange ideas about how to help him.
---
Change Location