MANY THEATERS ARE NOW CLOSED. WE WILL CONTINUE TO POST UPDATES.
Sword of Trust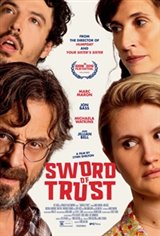 | 4 votes and 2 Reviews
Write a Review
In Theaters: July 12, 2019 (limited)
R | 1h 29m | Comedy
---
Cynthia (Jillian Bell) and her girlfriend Mary (Michaela Watkins) discover the only thing Cynthia inherited from her deceased grandfather is an antique sword that he believed was proof that the South—not the North—won the American Civil War. The two attempt to convince a curmudgeonly pawnshop owner Mel (Marc Maron) and his man-child sidekick Nathaniel (Jon Bass) of that fact, but the men unconvinced. However, when Mel goes online, he discovers that the item is worth tens of thousands of dollars, so they try to cut a deal with the ladies.
The four of them reluctantly join forces to sell this rarefied item to the highest bidder, but when unscrupulous and dangerous men show up to Mel's shop looking for the sword, it complicates matters.
---
Change Location