MANY THEATERS ARE NOW CLOSED. WE WILL CONTINUE TO POST UPDATES.
Strange Nature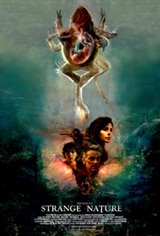 ---
A children's hiking group in rural Minnesota discover several live, mutated frogs along a pond. In the same area, a single mother, Kim, and her 11-year-old son, Brody, have just moved in with her estranged father, Chuck. It's not long before they too start witnessing strange occurrences including a disemboweled deer and the family dog's deformed puppies.
As the fear rises the rumors begin to fly. Some blame the intimidating disfigured hermit father and daughter who live on a surrounding lake. Environmental science points to the water sources. Possibly causes are pesticides, parasites or both. As the chaos spreads it becomes clear that Chuck's cabin is a hotspot ground zero for these mutations.
---
Change Location