MANY THEATERS ARE NOW CLOSED. WE WILL CONTINUE TO POST UPDATES.
Ratchasan (Raatchasan) (Ratsasan)
Ratchasan (Raatchasan) (Ratsasan)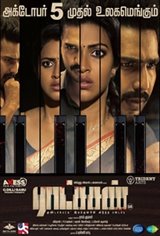 | 4 votes and 1 Reviews
Write a Review
In Theaters: October 5, 2018 (limited)
Drama, Thriller
---
Protagonist of the story Arun Kumar is an aspiring filmmaker. In his pursuit of the craft, he collects various tales of psychopaths and serial killers. Constant rejections in his attempts and family constraints force him to abandon his dream and take up the job of a Police officer.
Meanwhile in the Chennai city, a number of school girls are reportedly kidnapped and brutally murdered. Arun intuitively suggests to his superior officials that this could be the wrongdoings of a psycho killer, but they neglect his theories.
---
Change Location